About the Field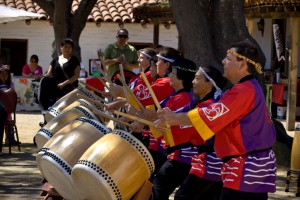 UC Santa Barbara defined Public History as a profession in 1976, with a Rockefeller Foundation grant to train historians for public and private sector careers beyond conventional academic employment. Since then, we have produced more than 100 students who apply their historical skills, knowledge and insights in public settings – in museums and heritage sites, businesses, government agencies, non-profit groups and private foundations. To meet the wide range of opportunities presented by the many publics we serve, the UCSB program prepares historians first as historians – broadly-trained scholar-professionals fully versed in the literature, methods, and interpretive debates of the venerable discipline – but also especially conscious of and practiced in the special challenges and resources distinctive to the public practice of History. Public History students regularly take advantage of the History Department's large and diverse faculty to integrate their particular research and reading interests into their program. Students have opportunity to intern in locally with the Santa Barbara Mission Archives Library, which houses the Franciscan Archives of the West, and hone their interpretive skills with Santa Barbara Trust for Historic Preservation, which engages with the public at the history Presidio Santa Barbara and Casa de la Guerra, as well as the Santa Ynez Mills.
The formal course of study for the Ph.D. degree is further enhanced by opportunities to:
participate in the editing and production of The Public Historian, the quarterly history journal jointly published by our program and the National Council for Public History
spend research or internship quarters in residence at the UCSB Washington D.C. Center, with research grant and teaching assistantship support available
meet and discuss the field with prominent visiting public historians in the program's speaker series; and
undertake coursework, research, and internships in the state capital, Sacramento, with the Public History Program's joint doctoral program at California State University, Sacramento.
Students will work with an unusually broad and dynamic faculty:
Peter Alagona, Environmental History, History of Science
Randy Bergstrom, History of Public Policy
James F. Brooks, American West, Non-profit missions and management
Lisa Jacobson, Oral History
Mary Hancock, Ethnographic methods, Public Memory
Stephan Miescher, Oral History, Africa
Harold Marcuse, Digital History, Commemoration
Ann Marie Plane, Material Culture, Museums, Colonial America
Joint Ph.D. Program with Cal State Sacramento
The joint Ph.D. program combines faculty and resources with the Capital Campus Public History program of CSU Sacramento in a venture unique in the nation. Students in the joint Ph.D. may take courses and participate in public history research projects at both locations and from the joint faculty, no matter location, through distance learning technology.
Students with the M.A. in public history or equivalent graduate training and experience may apply directly to the Ph.D. program. Those with other training are encouraged to contact the program director to discuss M.A. or preparatory graduate work for entry to the Ph.D. program.
Core Courses and Requirements
All entering public history Ph.D. students will complete the core of courses and requirements: at least six quarters of research seminars, two of which may be fulfilled by research seminars completed in M.A. studies
the History 292 A-B-C series (Foundations of U.S. History to 1846; 1846-1917; 1917-present) or parallel courses in Latin American, European, African, and Asian history
History 206 (History and Theory: Public History), History 207 (Historical Methods)
a public history internship involving research and a report, which may be fulfilled by an internship completed in M.A. studies
a graduate course in each of the four examination fields
pass examinations in four fields chosen as follows:

 general field
 specialized field within the general field
 third field encompassing the dissertation topic
 cognate field outside the department (e.g. art history, anthropology, political science)
The first three of these field examinations will be written and oral; the fourth will be covered by oral examination only. Additionally, Public History Ph.D.s must:
pass one foreign language examination
complete a dissertation
serve as a research assistant or teaching assistant, or comparable employment in public or private sector.
CURRENT GRADUATE STUDENTS
Links
Courses
History 192 Public History
History 205A Public Historical Studies
History 205B Public Historical Studies
History 217C Research Seminar in Cultural Resources Management, pt. 2
History 218A Colloquium in Public History
History 295PH Dept Colloquium in Public History