Nicky Rehnberg
---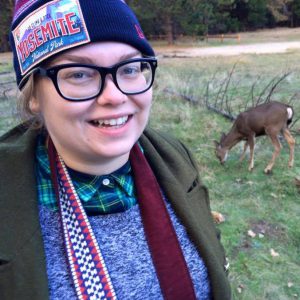 Nicky Rehnberg
Graduate Student
M.A. English Literature and Composition (CSUF, 2015); B.A. English, Philosophy, and American Studies (CSUF, 2013)
Area:
19th- and 20th-Century Environmental History
Office:
HSSB 3214
Office Hours:
Tuesday, 11am-1pm
Quarter: Winter 2022
Email:
In Fall 2022, I am a TA of HIST 17A. My office hours are Wednesdays between 12-2pm or by appointment on Zoom.
My dissertation "White Roots, Redwoods: Racializing German and US Conservation, 1920-1945" analyzes how environmental conservation and eugenics became entangled in Germany and the U.S. in the first half of the twentieth century through the use of Coast Redwoods (Sequoia sempervirens) and Giant Sequoia (Sequoiadendron gigantea), collectively known as Big Trees at this time. I argue that specific transnational conservation groups–the U.S. Save-the-Redwoods League and Sierra Club and the German Bund Heimatschutz (League for Homeland Protections) and Artamenen-Gesellschaft (Artaman League)–racialized conservation during 1920 to 1945 by intentionally white-washing nature and displaying it for both German and U.S. publics. Racialized conservation popularized eugenics, making the movement appear natural and scientifically-sound. To accomplish this study, I identify how German and U.S. conservation movements produced conservation and eugenic knowledge together, even collaborating during the second world war, and analyze how racialized conservation entwined the concepts of ecological and racial management in both countries. This promulgated white supremacy and white nationalism—a legacy which continues today. "White Roots, Redwoods" deepens and expands prior histories of museums and parks as spaces of political meaning-making and world-building in the early to mid-twentieth century, showing that these public-facing sites were focused on saving whiteness as much as saving.
"White Roots, Redwoods: Racializing German and US Conservation, 1920-1945"
"The Ethics of Reintroducing Large Carnivores: The Case of the California Grizzly." Conservation and Society, 19.1 (2021): 80-90. Print.
"Building the California Dream: Mediating Redwoods as a Tool of Modernity, 1850-1920." Media+Environment. Forthcoming.
"In Search of Lost Things: Proust and the Importance of Material Culture." American Papers

, vol. 33. (2014): 74-77. Print.

"Oh Captain, Our Captain: Captain America as a Hitler-Punching, Commie-Smashing, American God." The American Papers,

vol. 32. (2013): 85-91. Print.
Environmental History
Public History
History of Science and Technology
US Consumer History (19th and 20th Centuries)
Instructor of Record at UCSB
The American People: Twentieth Century US History (HIST 17C; Summer 2022)
The History of California (HIST 177; Summer 2021)
Gender and the Environment (ENV S 184; Summer 2021, 2022)
Introduction to Environmental Studies (ENV S 1; Summer 2020, 2021)
Graduate Teaching Assistant at UCSB
Great Issues in the History of Public Policy (HIST 7) 
Introduction to the History of Latin America (HIST 8)
The American People (WWI-Present) (HIST 17C)
Science and the Modern World (HIST 20)
Introduction to Environmental Studies (ES 1)
Graduate Reader at UCSB
History of California (HIST 177)
Food in World History (HIST 193F)
English Adjunct Instructor (Various Institutions) 
West Los Angeles College (Introduction to Writing and Creative Writing)
Southwest Los Angeles College (Critical Thinking)
Irvine Valley College (Introduction to Writing)
Santa Ana College (Developmental Writing)
Departmental Racial, Social, and Environmental Justice Fellowship (UCSB, 2022-2023)
Interdisciplinary Humanities Center Dissertation Fellowship (UCSB, 2022-2023)
German Studies Research Grant (DAAD, 2022-2023)
Research Grant (Consortium for the History of Science, Technology, and Medicine, 2022-2023)
Fritz Thyssen Dissertation Fellowship (German Historical Institute, 2022)
Public History Fellowship (UCSB, 2018-2019)
Fellowship (UCSB, 2017-2018)
Award for Outstanding Service as a Graduate Student, English (CSUF, 2014-2015)

Acacia Inspirational Peer Award (CSUF, 2014-2015)

Creative Writing Club Legacy Award (CSUF, 2013-2014)

Acacia Inspirational Peer Award (CSUF, 2013-2014)

Mary Kay Crouch Award in Outstanding Graduate Student Scholarship 

(CSUF, 2013-2014)

David Jon Vaca Memorial Undergraduate Scholarship in American Studies 

(CSUF, 2013)

Susan Flinkingshelt Award in American Studies (CSUF, 2011-2012)