FOCAL POINT Dialogues in History Webinar III: Racial Capitalism and Liberalism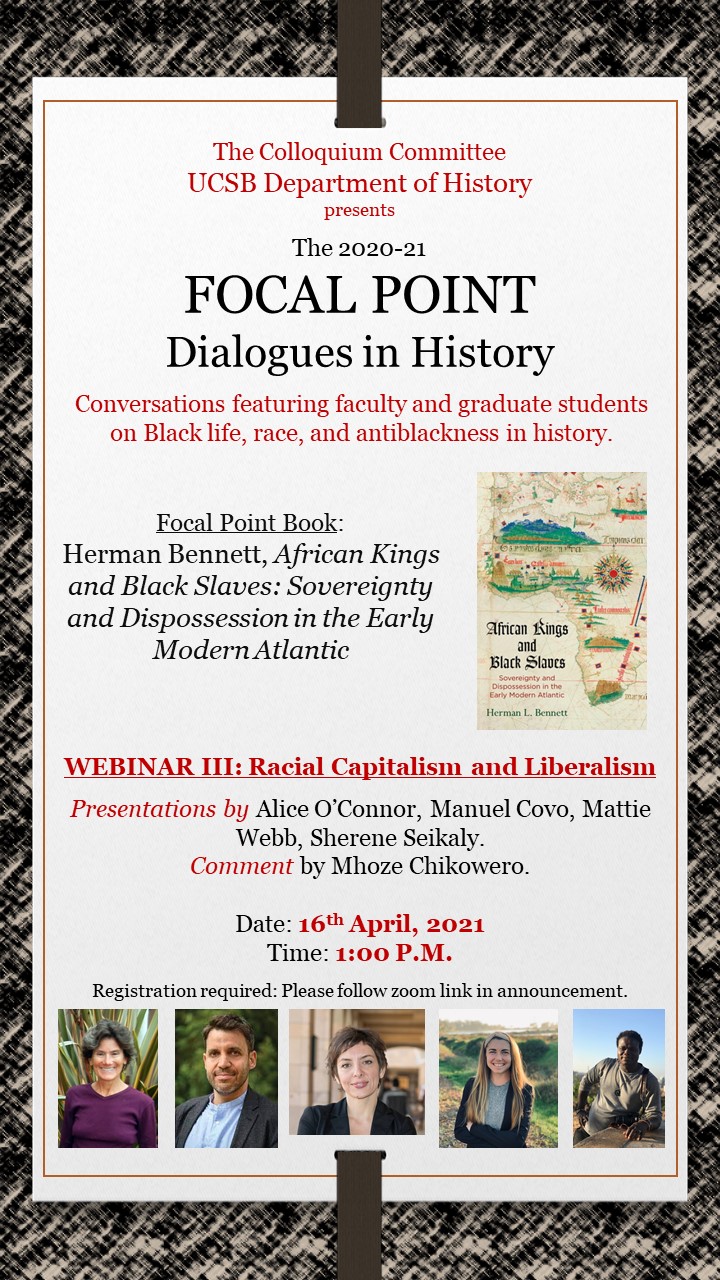 Building on the collective knowledge shared in the two previous webinars, the History Department's Colloquium Committee warmly invites you to attend the third and final session of our FOCAL POINT Dialogues in History series.  Inspired by the History Department's Statement on the George Floyd Uprising and its invocation to understand and interrogate our racialized past and the investments of disciplinary history within it, the series brings together UCSB History faculty and graduate students who have volunteered to lead a dialogue on Black life, race, and antiblackness in history. The final webinar will engage Herman Bennett's African Kings and Black Slaves, as a focal point to discuss themes like racial capitalism and liberalism from different historical angles of vision.
Our final webinar will transition into a Zoom meeting room format. Registration for the Zoom meeting is required. Please click on the link below to register, after which you will receive a passcode and meeting link. You will need the passcode to enter the meeting.
Date: April 16, 2021
Time: 1:00 PM Pacific Time (US and Canada)
Webinar III: Racial Capitalism and Liberalism
Zoom registration: Please register in advance for this webinar using the link below.
https://ucsb.zoom.us/meeting/register/tZcud-yvrj4iE9O-rnuoC1Vo4oW2d61R6HzW
Featuring presentations by Alice O'Connor, Manuel Covo, Mattie Webb, and Sherene Seikaly
Comment by Mhoze Chikowero
---
Alice O'Connor is a historian of poverty, capitalism, inequality, social science, and public policy in the U.S. and the author of Poverty Knowledge (2001) and Social Science for What? (2007).
Manuel Covo is a historian of French imperialism, the Atlantic World, and the Haitian Revolution and the author of the forthcoming The Entrepot of Atlantic Revolutions.
Mattie Webb is a historian of U.S. foreign policy, African History, and comparative race and ethnicity. Mattie's archival and oral-historical research combines social and diplomatic history to study the impact and awareness of the Sullivan Principles in South Africa during the apartheid era. 
Sherene Seikaly is a historian of political economy, capitalism, development, race, and dispossession in the modern Middle East and the author of Men of Capital (2016) and co-editor of A Critical Political Economy of the Middle East and North Africa (2021).
Mhoze Chikowero is a historian of music, colonialism, technology, and urban space in Zimbabwe and southern Africa and the author of African Music, Power, and Being in Colonial Zimbabwe (2015).
Related Events