FOCAL POINT Dialogues in History Webinar I: Sovereignty and the Political
February 19, 2021 @ 1:00 pm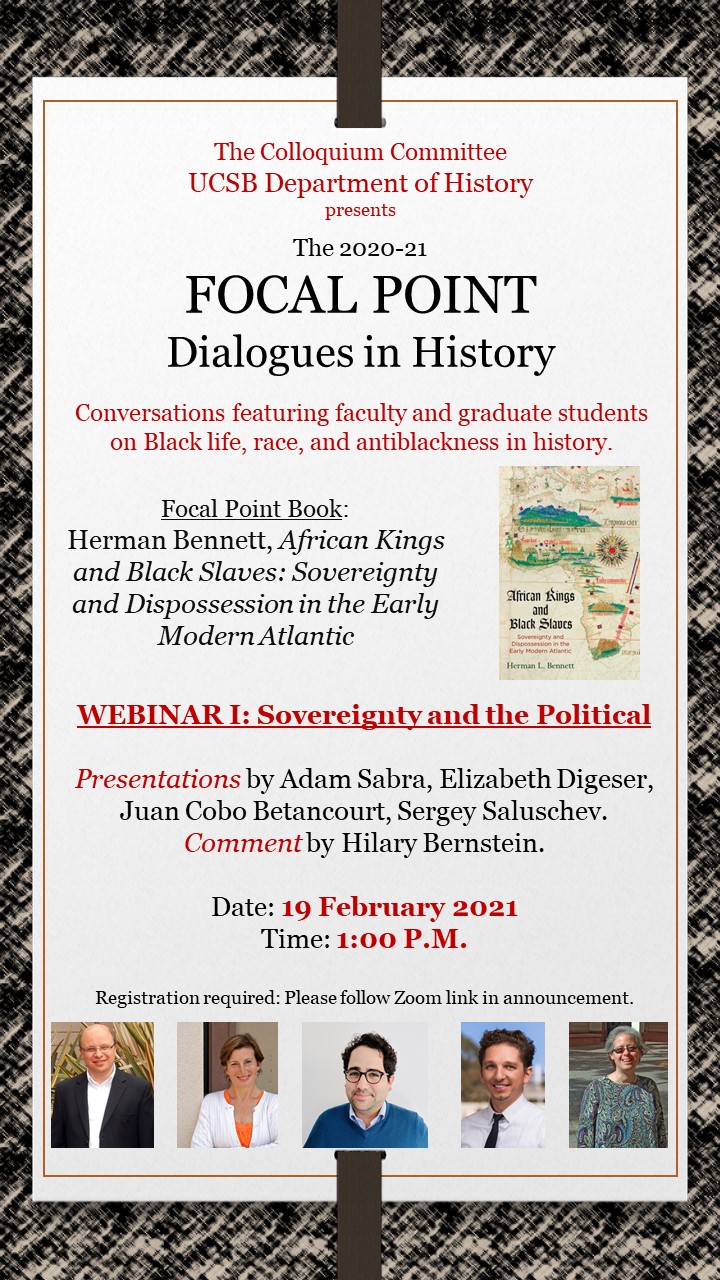 The History Department's Colloquium Committee warmly invites you to attend the inaugural session of our FOCAL POINT Dialogues in History series.  Inspired by the History Department's Statement on the George Floyd Uprising and its invocation to understand and interrogate our racialized past and the investments of disciplinary history within it, the series brings together UCSB History faculty and graduate students who have volunteered to lead a dialogue on Black life, race, and antiblackness in history. The conversations will engage Herman Bennett's African Kings and Black Slaves as a focal point to discuss themes like sovereignty, empire, and racial capitalism from different historical angles of vision.
Our inaugural webinar will engage Prof. Herman Bennett's emphasis on sovereignty and the importance of the political in understanding the history of race in the world. Registration for the webinar is required. Please click on the link below to register.
Date: 19th February 2021
Time: 1:00 PM
Webinar I: Sovereignty and the Political
Zoom registration: Please register in advance for this webinar using the link below.
https://ucsb.zoom.us/webinar/register/WN_31FRU_q0QYiZ46ABcHCvkw
Featuring presentations by Juan Cobo Betancourt, Elizabeth Digeser, Adam Sabra and Sergey Saluschev. 
Comment by Hilary Bernstein.
---
Juan Cobo Betancourt is a historian of race, language, religion, and law in colonial Latin America, co-founder of Neogranadina, and the author of Mestizos Heraldos de Dios (2012).
Elizabeth Digeser is a historian of religion, philosophy, Roman politics, and conversion in Late Antiquity, and the author of A Threat to Public Piety: Christians, Platonists, and the Great Persecution (2012).
Adam Sabra is a historian of poverty, charity, aristocracy, and Islam in medieval and early modern Egypt, and the author of Poverty and Charity in Medieval Islam: Mamluk Egypt 1250-1517 (2000).
Sergey Salushchev is a historian of slavery and abolition in the nineteenth century Caucasus under Russian imperialism. His dissertation analyzes the region as a permanent borderland, a site of cultural exchanges, translational commercial networks, contested memory, and imperial rivalries.
Hilary Bernstein is a historian of urban culture and history in early modern France, and the author of Historical Communities: Cities, Erudition, and National Identity in Early Modern France (2020).