Sergey Salushchev
---
Hello!
 I am a historian of slavery in Imperial Russia and the Caucasus and a lecturer in the Department of History at UC Santa Barbara. I am keenly interested in the questions of religion, religious conversion, and the performance of religious identity; the relationship between the state and subaltern groups; and the role of gender in the imperial peripheries.
My expertise lay in the history of the Caucasus in the nineteenth century. My scholarship conceptualizes the Caucasus as a permanent borderland, a site of cultural exchanges, transnational commercial networks, contested memory, and imperial rivalries. My book manuscript, Reluctant Abolitionists, investigates the history of slavery, the slave trade, and abolition in the Caucasus under Russian imperial rule. When completed, it will provide the first comprehensive account of how slavery was abolished in the Caucasus and be in conversation with a global history of abolitionism.
Please visit my websiteto learn more about my current research interests and projects.
Reluctant Abolitionists: Slavery & Abolition in the Caucasus (1801-1914)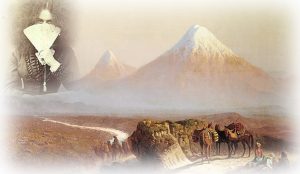 "With the Tsar's Imprimatur: A Slave Sale Deed from Russia's North Caucasus (1864)," in Russian-Arab Worlds: A Documentary History, ed. Eileen Kane, Masha Kirasirova, Margaret Litvin (Oxford University Press, forthcoming 2023).
"Of Leeches and Men: The South Caucasus in the Global Trade in Medicinal Leeches in the Nineteenth Century." All the Russias' Blog, NYU Jordan Center for the Advanced Study of Russia. January 2022.
Review of Amanda Brickell Bellows, American Slavery and Russian Serfdom in the Post emancipation Imagination. H-Russia, H-Net Reviews. July 2021.
"38 Years a Slave: The Narrative of Joseph & Transnational Slavery in the Caucasus," Peripheral Histories?, March 2021.
Sergey Salushchev and Kali Yamboliev, "Unfortunately, Some Mistake Were Made": Joseph Stalin and Public History in Post-Independence Georgia," The Public Historian 42, no. 3 (2020): 33-60.
"Authenticity, Identity and Hegemony in the Context of Global Governance." Perspectives on Global Development and Technology 13, no. 1-2 (2014): 281–295. 
Russian Empire / Soviet Union / Modern Russia
Modern Europe
Modern Middle East
Instructor of Record / Lecturer:
Summer 2019 – 2021 – History 135 B – History of the Russian Empire (1801-1917)
Winter 2020 – History 135 C – History of the Soviet Union and Modern Russia (1917-2014)
Graduate Teaching Assistant:

Summer 2017 – History 2C World History – 1700 – Present
Spring 2017 – History 4C – Western Civilization
Winter 2017 – History 8 Introduction to History of Latin America

Fall 2016 – History 46 Modern Middle East Spring

 2016 – Global Studies 1
Winter 2016 – History 2B World History 1000CE – 1700CE
Fall 2015 – History 88 History of South Asia
Spring 2015 – History 4C Western Civilization
Winter 2015 – History 2A World History – Prehistory to 1000 CE
Fall 2014 – History 2C World History – 1700 – Present
Spring 2014 – Black Studies 1 Introduction to African American Studies
Winter 2014 – Black Studies 6 The Civil Rights Movement
Spring 2013 – Global 120 Global Ideologies & World Order
Winter 2013 – Black Studies 4 Critical Introduction to Race & Racism
Fall 2012 – Global 120 Global Ideologies & World Order
UCSB Center for Middle Eastern Studies Research Fellow (2021-2022)
The Seventh Annual Van Gelderen Graduate Student Lecture Award (2020)
UCSB Graduate Division Dissertation Writing Fellowship (2019-2020)
American Councils Title VIII – Research Scholar Fellowship (2018 – 2019)
Fulbright Fellowship (2018-2019) Alternate
Fulbright Fellowship (2017-2018) Finalist
Association for Slavic, East European & Eurasian Studies – Dissertation Research Grant (2017)
UCSB Regent's Dissertation Research Fellowship (2017 – 2018)