Announcements
NOTE: I will be on leave from UCSB from 1 July 2015 until the start of the Fall 2016 quarter; I'll be in Washington DC as the Lindbergh Chair at the National Air and Space Museum.
Personal Statement:
I research and teach about the history of technology and science in the 20th century. For more information about me and my work, see my off-UCSB website. It also is the home of my blog, Leaping Robot. You can also find me on Twitter.

Current Graduate Students:
Current Projects:
I have several new projects underway. I recently started a new book project for The MIT Press called Re-Wiring Art. It looks at art-technology collaborations during the 1960s-90s with the focus being the perspective & experience of engineers and scientists who paired up with artists. Connected to this, I have a courtesy appointment with the Media Arts and Technology program at UCSB.
As a follow-up to an earlier book, I'm looking at how astronomers' view of the night sky changed from an era of photographic plates to one mediated by digital technologies.
Finally, with UCSB graduate student Brian Tyrrell, I'm exploring the emergence of the "DNA nanotechnology" community; the focus is how scientists and artists have taken this iconic molecule and transformed it from a "blueprint" to "bricks" they could use to bioengineer objects on the nanoscale.
Selected Publications:
Books: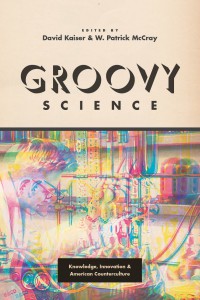 Recent and Forthcoming Articles:
"The Biggest Data of All: Making and Sharing a Digital Universe," forthcoming in Osiris, 2017.
"Gravity and Geese" looks at work of German artist Agnes Meyer-Brandis & connections to a 17th century science fiction story; forthcoming in Leonardo, 2016.
"How Astronomers Digitized the Sky," Technology and Culture 55, 4 (2014): 908-944. Title says it all…
"'Globalization with Hardware'": ITER's Fusion of Technology, Policy, and Politics," History and Technology, 26, 4 (2010): 281-310. Fusion scientists in Europe created a transnational research community as they planned their "next big machine."
"From Lab to iPod: A Story of Discovery and Commercialization in the Post-Cold War Era," Technology and Culture, 50, 1 (2009): 58-81. How did a physics discovery made in 1988 end up in your iPod? [a shorter version of this is in January 2009 issue of Nature Nanotechnology.]
"Amateur Scientists, the International Geophysical Year, and the Ambitions of Fred Whipple." Isis 97, 4 (2006): 634-658.
Tells of the hurdles astronomer Fred Whipple overcame to persuade his colleagues that amateurs could contribute to the IGY.
"Will Small Be Beautiful? Making Policies for Our Nanotech Future." History and Technology 21, 2 (2005): 177-203.
Although somewhat dated already, this essay lays out the basic path for how the U.S. government decided to spend billions on nanotech research.
Courses Taught:
My research informs my teaching. I offer a variety of undergraduate and graduate courses including:
Science and the Modern World (History 20)
The Atomic Age (History 105A)
The Space Age (History 105B)
The Information Age (History 105C)
Technology and Modern America (History 109T)
Science and Modern America (History 109S)
In addition, I teach some more specialized small-enrollment undergraduate courses as well as graduate readings and research seminars.
Honors and Professional Activities:
Lindbergh Chair, 2015-16, National Air and Space Museum, Smithsonian Institution.
Watson Davis and Helen Miles Davis Prize, History of Science Society (2014) For The Visioneers as best book that "promotes public understanding of the history of science."
Elected Fellow; American Association for the Advancement of Science (2011) and American Physical Society (2013)
Eleanor Searle Visiting Professor, History of Science, California Institute of Technology, 2011-12.
Collaborative Research Fellowship (2010-2011) from the American Council of Learned Societies.
Senior Research Fellow, Institut Méditerranéen de Recherches Avancées; 2010.
Co-Principal Investigator for UCSB's Center for Nanotechnology in Society. The CNS was a ten year, multi-million dollar initiative (2016-2016) funded by the National Science Foundation to support humanities and social science research on emerging technologies.
I am currently on editorial boards of Isis, Osiris, Historical Studies in the Natural Sciences, and History of Science
In the News