John Coleman Award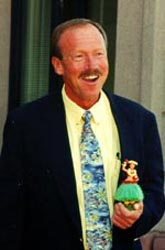 The John Coleman Award goes to the graduate student who wrote the best paper in Cold War history, international history or military history, the three fields that defined John Coleman's career interests. John served in the military in Vietnam. He was a former journalist who traveled widely and returned to school to pursue a degree in international relations. The Hawaiian shirt was his trademark. (This photo was taken on an "Aloha Day" he organized in 2000, for which he was forced to wear a suit and tie in return for getting everybody else to wear Hawaiian shirts.) After his premature death in 2003, John's fellow graduate students urged the History Associates to establish this award in his honor.
Recipients:
2017
Andrew Elrod

2016
David Baillargeon

2012
Paul Hirsch, "'Defining the Enemy': The Writers' War Board and Representation of Race in Comic Books, 1942-1945."
2011
Henry Maar, "Three Megatons of 'Peace"" Revolutionary MIRV Technology and the Meaning of Survival in the Atomic Age."
2010
Nicole Pacino: "The MNR's New Revolutionary Movement: Sanitary Reforms and the Consolidation of the Bolivian Revolution."
2009
Roger Eardley-Pryor: "The Fruits of Science for Death and Destruction."
2008
Dimitri Akulov: "Soviet Bid for the Second Front and Territorial Security, 1941-1942."
2007
No award given.
2006
Toshihiko Aono, "Twin Crises in the Cold War: the Berlin-Cuban Crisis and Anglo-American Relations, 1961-63."