FOCAL POINT Dialogues in History Webinar II: Empire and Liberation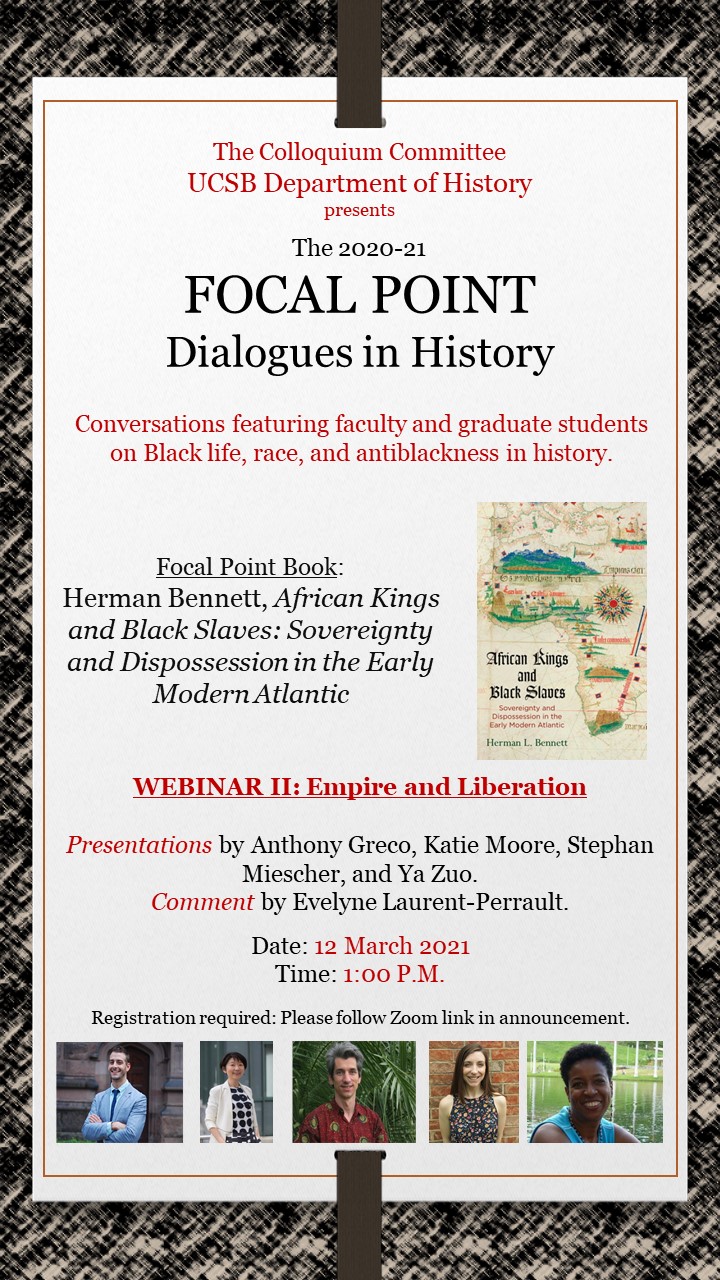 Building on the collective knowledge shared in our first webinar, the History Department's Colloquium Committee warmly invites you to attend the second session of our FOCAL POINT Dialogues in History series.  Inspired by the History Department's Statement on the George Floyd Uprising and its invocation to understand and interrogate our racialized past and the investments of disciplinary history within it, the series brings together UCSB History faculty and graduate students who have volunteered to lead a dialogue on Black life, race, and antiblackness in history. The conversations will engage Herman Bennett's African Kings and Black Slaves, as a focal point to discuss themes like sovereignty, empire, and racial capitalism from different historical angles of vision.
Our second webinar will engage Prof. Herman Bennett's emphasis on empire and colonialism in understanding Atlantic history and the politics of liberation from a wide diversity of scholarly standpoints. Registration for the webinar is required. Please click on the link below to register.
Date: Mar 12, 2021
Time: 1:00 PM Pacific Time (US and Canada)
Webinar II: Empire and Liberation
Zoom registration: Please register in advance for this webinar using the link below.
https://ucsb.zoom.us/webinar/register/WN_kI2R6miRRO2blZUh_62shQ
Featuring presentations by Anthony Greco, Katie Moore, Stephan Miescher, and Ya Zuo
Comment by Evelyne Laurent-Perrault
---
Anthony Greco is a historian of engineering and technology, colonialism, and science in the modern Middle East. His dissertation research examines Egypt's long tradition of scientific knowledge and pedagogy. Before this, he worked as a diesel mechanic, plumber, and carpenter which inspired his interest in builders and maintainers of public works.
Katie Moore is a historian of early American political economy, money, debt, and the Atlantic World, and the author of the forthcoming A Revolutionary Currency.
Stephan Miescher is a historian of nineteenth and twentieth century Ghana, masculinities, and environmental history, and the author of Making Men in Ghana (2005) and coeditor of Gender, Imperialism, and Global Exchanges (2015).
Ya Zuo is a historian of middle and late imperial China, epistemology, political philosophy, ethics, and emotions, and the author of Shen Gua's Empiricism (2018).
Evelyne Laurent-Perrault is a historian of the African diaspora in colonial Latin America and the Caribbean, the political imagination of enslaved women, and the author of the forthcoming Claims of Dignity.