Mónica Michelena: "We Are Charrúa Women: From Negation to Re-Existence in Our Body-Territory"
February 26, 2021 @ 4:00 pm
Free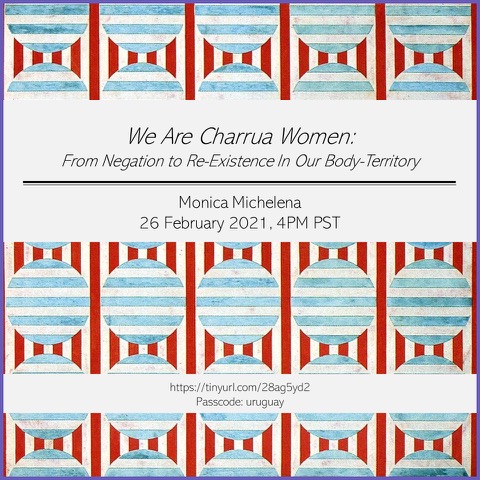 UCSB and UCSD have joined together to welcome Mónica Michelena, Secretary of the Charrúa Nation's Council and former Advisor on Indigenous Affairs for Uruguay's Ministry of Foreign Affairs (2014-18).
Charrúa women have gone through dispossession, exclusion, and negation that left marks on their collective memory and body-territory. This genocidal process did not end in 19th-century Uruguay, but continues today and manifests itself every time that institutions or civil society denies their existence as an indigenous people. For fifteen years, together with Charrúa sisters from Argentina, Charrúa women from Uruguay have been working to demolish hegemonic narratives of the market and state. As subjects of legal right, they are reconfiguring their existence and re-existence in their great ancestral-territory-body. This collective search has led Michelena to academic spaces.
In 2011, Michelena began an investigation with rural Charrúa women in Uruguay's interior to question the nation-state's devices of invisibility and to expose counter-memories as part of an attempt to disarm the social and symbolic representation of their extinction. Through a methodological approach based on collaborative ethnography, Michelena's research aims to rearm the great quillapí of memory. The metaphor of quillapí – a leather cape made from patchwork – implies that each woman is the bearer of a small piece of memory and, among all, they are sewing together its scraps. Down this path, Charrúa women began to slowly gain recognition from the Uruguayan feminist movement, in a slow process of internal decolonization.
Zoom link: https://ucsd.zoom.us/meeting/register/tJcscu2urjkpEtMCu4cVNRoiyQe_J-RtAr1Y
Password: uruguay
---
This event is part of the Feminismos desde abajo, y hacia el sur/ Feminisms from Below, and Toward the South series. This speaker series welcomes feminist militants from Latin America to share their perspectives and experiences on building popular power towards a mass feminist movement. Over the past decade, Latin American feminists have identified manifestations of gender-based oppression under capitalism in everyday women's conditions in order to successfully mobilize them as part of a political movement. Feminists produce analyses and subsequent strategies around reproductive rights, resource extractivism, housing, debt, and more. This mass feminism has grown to be arguably the most insurgent political force across the continent.
Related Events