Let us go upon the Acropolis: John Wesley Gilbert in Greece, September 1890-April 1891
April 19, 2017 @ 4:00 pm

-

5:30 pm
Talk by John W.I. Lee, UCSB History Department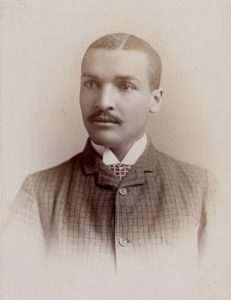 John Wesley Gilbert (ca. 1863-1923) was born in Hephzibah, Georgia. He attended Paine College (Augusta, Georgia), then received his BA from Brown University in 1888. He was the third African American to graduate from Brown. As a Brown MA student in 1890-1891, Gilbert became the first African American to attend the fledgling American School of Classical Studies at Athens (ASCSA). The ASCSA was founded in 1881 by a group of scholars from Brown, Columbia, Harvard, Yale, and other American colleges as a research and teaching center for Greek archaeology, literature, and history.
Drawing on Gilbert's own writings and other contemporary documents, this talk examines the historical significance of Gilbert's time in Greece. During his year as a student at the American School, Gilbert traveled throughout Greece, wrote a thesis on the demes (political subdivisions) of ancient Athens, and took part in the ASCSA's excavations at the ancient city of Eretria.
After studying in Greece, Gilbert returned to the U.S. to teach at Paine College in Augusta, Georgia. He was a leader in the Colored Methodist Episcopal Church (now Christian Methodist Episcopal Church) and was an important voice for African American education and for racial equality and harmony in the U.S.
This talk is part of the 'Black Classicism' lecture series presented in conjunction with the "14 Black Classicists" exhibition hosted by the AD&A Museum and the UCSB Library.  The lecture is co-sponsored by the Argyropoulos Endowment in Hellenic Studies, and the departments of Classics and Black Studies.
Related Events