FOCAL POINT Dialogues in History Keynote Lecture with Prof. Herman Bennett: "Body, Soul & Subject: A History of Difference in the Early-Modern African Atlantic"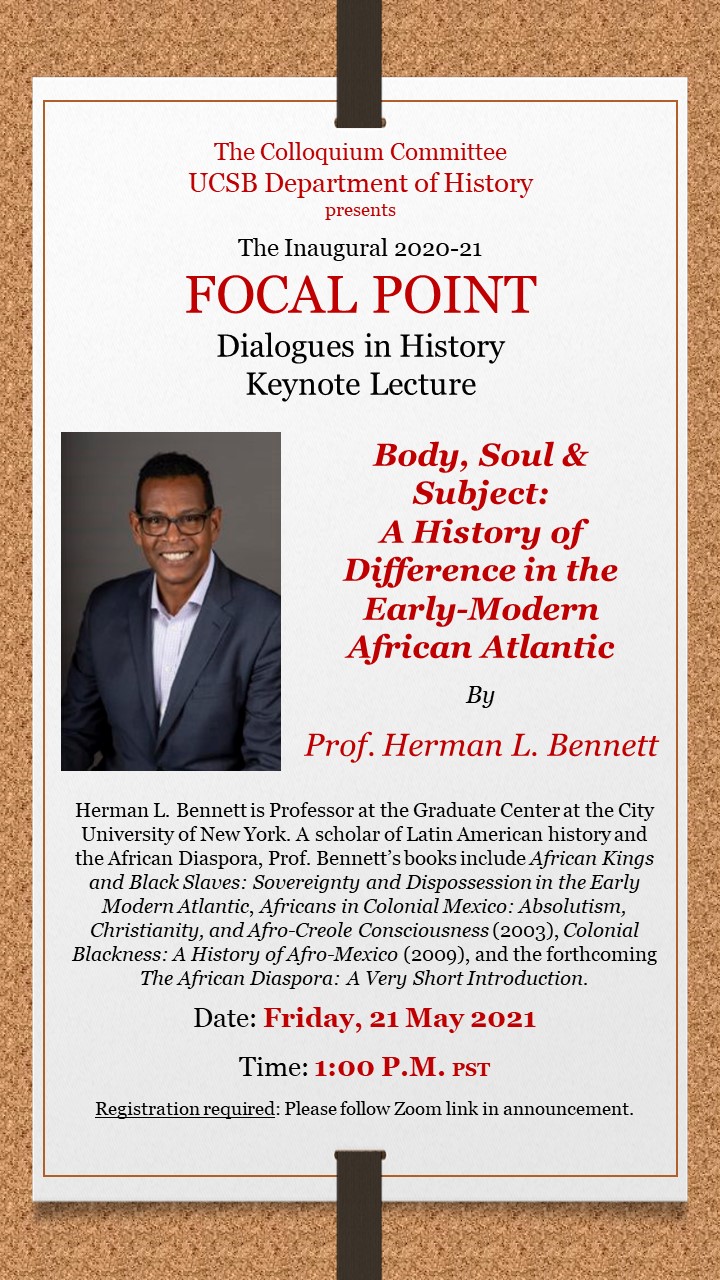 The History Department's Colloquium Committee warmly invites you to attend the keynote lecture of our FOCAL POINT Dialogues in History series. The lecture, "Body, Soul & Subject: A History of Difference in the Early-Modern African Atlantic," will be delivered by Prof. Herman L. Bennett.
Herman L. Bennett is Professor at the Graduate Center at the City University of New York. A scholar of Latin American history and the African Diaspora, Prof. Bennett's previous books include Africans in Colonial Mexico: Absolutism, Christianity, and Afro-Creole Consciousness (2003), Colonial Blackness: A History of Afro-Mexico (2009), and the forthcoming The African Diaspora: A Very Short Introduction. His notable essays include "The Subject in the Plot: National Boundaries and the 'History' of the Black Atlantic," in African Studies Review (2000) and "Writing into a Void: Slavery, History, and Representing Blackness in Latin America" in Social Text (2007). He has been the recipient of fellowships from the National Endowment for Humanities, the Andrew W. Mellon Foundation, the Institute for Advanced Study at Princeton University, and the American Council of Learned Societies. The American Historical Association recognized his mentorship of racially and ethnically underrepresented students in the historical discipline through the AHA Equity Award in 2012. Prof. Bennett has served on the editorial boards of the Hispanic American Historical Review, Social Text, The Americas, the Blacks in the Diaspora series at Indiana University Press, and the American Historical Review.
Prof. Bennett's most recent book, African Kings and Black Slaves: Sovereignty and Dispossession in the Early Modern Atlantic (2018) invites our attention to politics of sovereignty, enslavement, and power in the earliest Iberian and African interactions as a point of inquiry to critically rethink the ways in which liberalism has subsequently shaped analyses of culture, economy, and history.
The inaugural FOCAL POINT Dialogues in History series is inspired by the UCSB History Department's Statement on the George Floyd Uprising and its invocation to understand and interrogate our racialized past and the investments of disciplinary history within it. Following three webinars led by History Department faculty and graduate students on topics like sovereignty, the political, liberation, racial capitalism, liberalism, and empire, from their own scholarly angles of vision, the keynote lecture brings the series to a close and invites more conversations to be continued in the future.
The keynote lecture will use the Zoom webinar format. Prior registration is required.
Date: Friday 21 May, 2021
Time: 1:00 PM Pacific Time (US and Canada)
Keynote Lecture: "Body, Soul & Subject: A History of Difference in the Early-Modern African Atlantic"
Zoom registration: Please register in advance for this webinar using the link below:
https://ucsb.zoom.us/webinar/register/WN_RbHCtjyoS8S-l6vbTiFEzw