Paola De La Cruz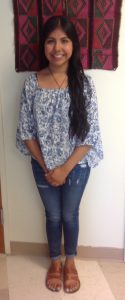 Paola de la Cruz, a History of Public Policy major, has received the Thomas More Storke Award for Excellence, which is the campus's highest student honor for outstanding scholarship and extraordinary service to the university, its students, and the community. Paola is completing a senior thesis that examines the history of the Ventura School for Girls, a California state institution established in 1913 for "delinquent" girls. She is interested in recovering the lived experiences of young women of color who, like most of their female peers, were sent to the institution for sexually based "crimes."  In addition to her extraordinary academic achievements, Paola has shown her commitment to community service throughout her time at UCSB. From 2013 to 2015 she worked with the Superior Court of Santa Barbara as a restorative court student intern. In 2014, she was elected to the Isla Vista Recreation and Parks District Board of Directors.  In 2015-16 she served as the Associated Students External Vice President for Local Affairs in Isla Vista working on voter registration, tenants' rights, community policing, and IV self-governance; she worked with historically unrecognized community groups, specifically Latina/o families and youth. In fall 2016, moreover, she took advantage of the UCDC program, interning with the Justice Policy Institute. Next year, Paola will be participating in the California Capital Fellows Program. Her future plans include law school and securing a job with an organization that provides direct services to youth involved with the juvenile justice system.
Amanda Chen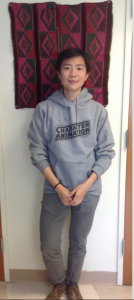 As a triple major in Classics, Linguistics, and Medieval Studies, Amanda (Andy) Chen was invited, because of her Medieval Studies major, to participate in the History Department's 2016-2017 Senior Honors' Seminar. The resulting thesis garnered the Chancellor's Award for Excellence in Undergraduate Research and constituted a major component in her receipt of the William R. Reardon Undergraduate Award. In the thesis, "Worship and War: Sacred Space in the Byzantine Military," Andy opens our eyes to seeing the past in a way that no one before has done, demonstrating how sacred space molded the behavior and values of the Byzantine Army.  In developing this thesis Andy drew on her upbringing in a split Catholic-Protestant military family and on her background in illustration and animation (which helped garner a Herb Alpert Emerging young Artists' Scholarship for her study at UCSB).  She also drew on her extensive linguistic training in the Classics department and in the UC Education Abroad Program in Germany.   Indeed, during her time at UCSB she took advantage of two California Promise awards, to study in the UK and Germany; and she received a language study grant to study Russian.  This coming summer she will further her language study in the Middlebury for German program, before going on to pursue a PhD.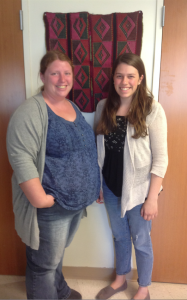 Katie Correia
In her two years at UCSB, Katie Correia, who is both a McNair and a Guardian Scholar, has accumulated a remarkable record – one that has garnered her the Dean of Undergraduate Education Commencement Award. She has written five original research papers, including a thesis for the History Department's Senior Honors' Seminar entitled, "Homeward Bound: British Captivity and Diplomacy in Algiers, 1625-1660." Her McNair scholar mentor, Professor Sears McGee, writes that "in my forty-five years of teaching at UCSB, I cannot remember a single undergraduate who has come farther faster not only as a writer but as an astute analyst of difficult early modern sources."   During her time at UCSB Katie also volunteered for both the McNair Scholars Program and for the Guardian Scholars Program.  In her work for the Guardian Scholar's Program, which supports the educations of former foster youth, she has helped develop resources for other guardian students who are, like herself, parents and transfer students.  With the ultimate goal of receiving a PhD in history, Katie will enter the MA program in History at Utah State next fall.
Cheryl Wilson
Cheryl Wilson, a history major who minored in Professional Writing, has been awarded the Deans' Award for Outstanding Senior. During her time at UCSB she has focused her studies on the economic history of the pre-civil war south and the legacy of the voting rights act. In her sophomore year, moreover, she was elected president of the UCSB Mock Trial Club.  In that capacity she coached the junior varsity team and was named 2015 "All-Nation Outstanding Attorney" by the American Mock Trial Association. During her junior year, while participating in the UCDC program, she served as an intern at both the White House and the Department of Justice, and the Department of Justice then asked her to come back as a paid employee, which she did for a year, all the while furthering her credits towards her UCSB BA. While working at the Department of Justice, moreover, she organized a mentorship day, which brought students from local high schools to the Justice Department, where they were able to hear, and be inspired by, Loretta Lynch's career path.  Cheryl is currently applying for advocacy/civil rights jobs and plans to begin law school in fall, 2018.