New York Museum Features Work of Prof. Pat Cohen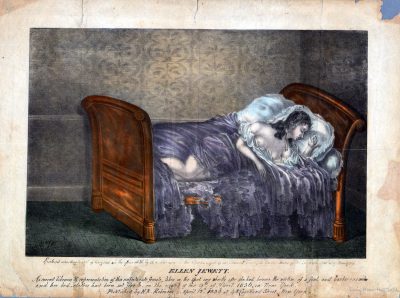 Ellen Jewett by Alfred M. Hoffy (1836), courtesy of the American Antiquarian Society.
Professor Pat Cohen's 1998 book, The Murder of Helen Jewett, is taking on a new life next month in New York City. Helen Jewett will be featured as part of the first permanent exhibit at The Museum of the City of New York, New York at its Core . This exhibit features the stories of compelling persons and objects that helped make New York what it is today. Thanks to the work Cohen, an emeritus professor in the History Department,  did to uncover the details of the sensational murder of Helen Jewett in 1836, the interactive exhibit will showcase issues of gender, sexuality, and innovations in the print culture of 19th century New York City.
This exhibit places Jewett among other touchstones of New York City history. "Jewett now takes her place along with Hamilton, Whitman and others, representing NYC in the early Republic," Cohen noted, "Since this is a permanent exhibit, the Museum's first, she will likely be there for some years to come."
---