Brad Bouley
---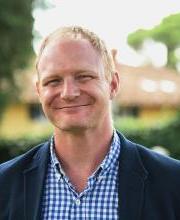 Brad Bouley
Associate Professor
Ph.D., Stanford University, 2012
Area:
Early Modern Europe, Histories of Science and Religion
Office:
HSSB 4237
Office Hours:
T 12-2 pm
Quarter: Fall 2020
Email:
Curriculum Vitae:
Brad Bouley's research focuses on the histories of religion and science in the early modern, especially Italian, context. His first book, Pious Postmortems: Anatomy, Sanctity, and the Catholic Church in Early Modern Europe, was published by the University of Pennsylvania Press in 2017. His work has also appeared in Osiris, Early Science and Medicine, Catholic Historical Review, the Sixteenth Century Journal, and the Rivista di Storia del Cristianesimo. When not conducting research on the early modern period, he enjoys running, reading science fiction, cooking, and playing with his two boys.
Professor Bouley is currently completing a book manuscript entitled The Barberini Butchers: Meat, Murder, and Warfare in Early Modern Italy. This work looks at how the Counter Reformation informed food policies in the Papal States during the Thirty Years War. In an attempt to make Rome into a model city following the Reformation, a series of reform-minded popes sought to provide better food and wine to the citizens of the Holy City. In particular, by the 1640s Romans ate far more meat than other contemporary urban residents. Such consumption was, however, not sustainable and resulted in a series of conflicts, including a brutal case of cannibalism in Rome itself.  In this next project I hope to use the most quotidian of objects—food—to examine the ways in which individual Italians experienced the Reformation, the Thirty Years War, and early modern globalization. In seventeenth-century Rome, what one ate mattered.
In addition to this project, I am also conducting research on the various spaces in which medicine was practiced in early modern Rome and the role of the Inquisition as a patron of medical studies.
"Digesting Faith: Eating God, Man, and Meat in Seventeenth-Century Rome," Osiris, Vol. 35 (2020): 42-59
Pious Postmortems: Anatomy and the Creation of Early Modern Saints, University of Pennsylvania Press,  2017.
"The Heart of Heresy: Inquisition, Medicine, and False Sanctity,"  Early Science and Medicine, Vol. 23, No.1-2, (2018): 34-52.
"Papal Anatomy in the News: Bodies and Politics in the Early Modern Catholic World," Sixteenth Century Journal Vol. 48, No. 3 (Autumn, 2018): 643-662.
"Negotiated Sanctity: Incorruption, Community, and Medical Expertise," The Catholic Historical Review  Vol. 102, No. 1 (Winter, 2016): 1-25.
"Roman Medicine, Papal Power, and the Making of Spanish Saints," Rivista di Storia del Cristianesimo, Vol. 13, No. 1 (Winter, 2016): 131-148.
Professor Bouley teaches courses on the Renaissance, Reformation, and the History of Science. In particular, he is excited to be offering courses in the future on Inquisition and Heresy, Niccolo Machiavelli and his legacy, and the Trial of Galileo.
Villa I Tatti Fellowship in Renaissance Studies 2017-2018 Year
European Institute for Advanced Studies Fellowship 2017-2018 Year (declined)
USC Provost's Postdoctoral Fellowship in the Humanities 2012-2014 (declined second year)
American Academy Rome Prize Fellowship 2011­–2012 Year
Fulbright Fellowship for Italy 2009–2010 Year