Please join us on Sunday October 22 2017 to hear a talk by Prof. Toshi Hasegawa. The event will be at the Karpeles Manuscript Library, 21 West Anapamu Street, Santa Barbara.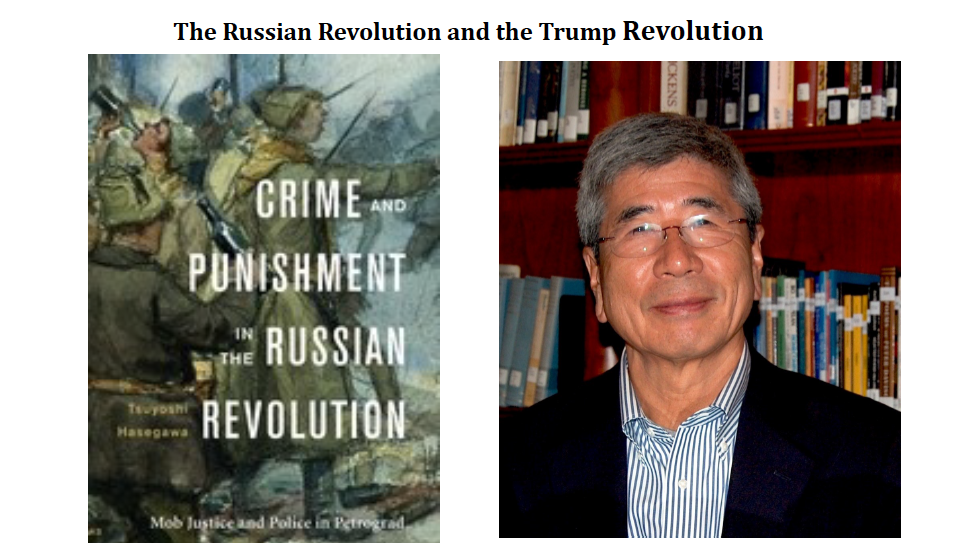 In 1917, the February Revolution overthrew the monarchy of Tsar Nicholas II in Russia and un-wittingly opened the door to Lenin and his allies who seized power in October. On Oct. 22, 2017, Professor Emeritus Tsuyoshi Hasegawa will speak about what the Russian Revolution can tell us about our situation now. He taught at UCSB from 1990 until his retirement in 2016, and he is one of the leading historians of Soviet Russia in the world. His new book (cover above left) was published by the Harvard University Press this year, and a second, much expanded and revised edition of his book on The February Revolution, Petrograd, 1917 (1981) appears this month from Brill Publishers. Historian Robert H. McNeal (U. Mass, Amherst), reviewing the first edition in the American Historical Review, called it "the best work in any language on its subject and essential reading for any serious student of the Russian Revolution." Hasegawa's Racing the Enemy: Stalin, Truman, and the Surrender of Japan (Harvard UP, 2005) won the 2005 Robert Ferrell Award from the Society for the Historians of American Foreign Relations as well as other major prizes in Japan and the U.S. Able to use sources in Japanese and Russian as well as English, Hasegawa demonstrated that the decisive factor in the decision of the Japanese to surrender was not the atomic bombs dropped on Hiroshima and Nagasaki. Rather, the Soviet declaration of war against Japan raised the specter of a Russian conquest of Japan. The Japanese feared the Russian bear more than the American eagle.
This free event is co-sponsored by UCSB's Center for Cold War Studies.