Slaves, Silver, and Atlantic Empires (Alex Borucki, UC Irvine)
November 1, 2017 @ 5:00 pm

-

7:00 pm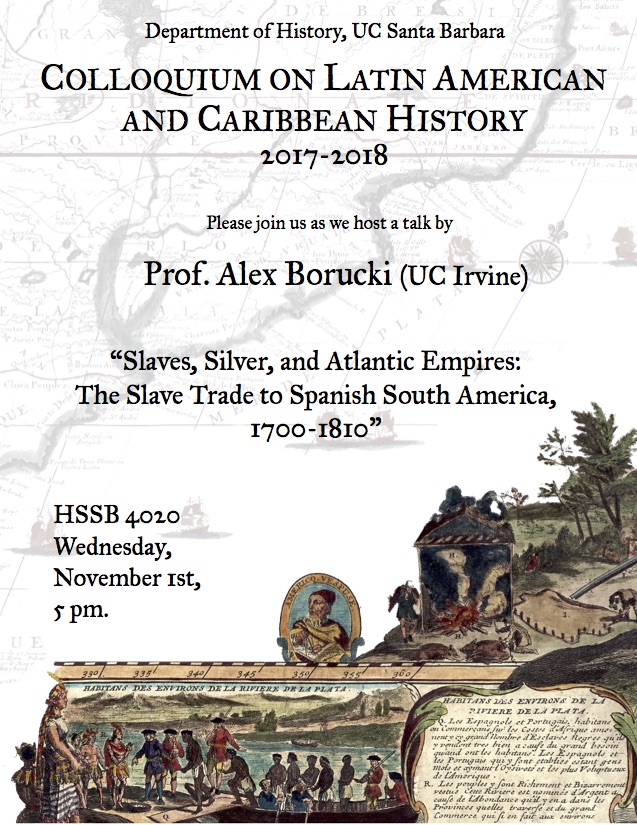 Please join us for the next meeting of the new Colloquium on Latin American and Caribbean History as we welcome Alex Borucki, who will deliver a talk entitled "Slaves, Silver, and Atlantic Empires: The Slave Trade to Spanish South America, 1700-1810".
The talk will be held in HSSB 4020 at 5 pm on Wednesday, November 1st, and will be followed by a small reception.
Prof. Borucki has pre-circulated a paper. Please e-mail jcobo@history.ucsb.edu to obtain a copy.
Abstract: This presentation examines the slave voyage conducted by the ship Ascension (1795-1797) connecting Rhode Island, Mozambique, and the Río de la Plata (The River of Silver, today's Argentina and Uruguay), as a window into the eighteenth-century slave trade to Spanish South America. In this era, the slave trade became the key to accessing Spanish American consumers and silver for foreign traders. As a result, Spanish American silver entered English, Dutch, and Portuguese commercial circuits beneficial to metropolitan merchants and public revenues. The story of the Ascension's captives goes beyond Anglo-American conceptions of the Middle Passage born out of the triangular trade, as the yearlong ordeal of these Africans involved Indian Ocean embarkation, Atlantic crossing to Montevideo, a journey on oxen-carts throughout the Pampas and on mule-trains across the Andes into Chile, and their final reshipment in the Pacific to Lima.
About the Speaker: Alex Borucki is Associate Professor of History at UC Irvine.
Page last modified: October 18, 2017