Gender Cluster Workshop | Anna Rudolph
January 20, 2022 @ 3:30 pm

-

4:30 pm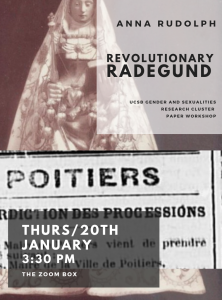 On Thursday, 20 January 2022, Anna Rudolph will share her chapter – Chapter 6_Revolutionary Radegund– with the Gender and Sexualities Research Cluster. 
This chapter presents an in-depth study of the cult of Radegund, a sixth-century Frankish queen-saint, from the French Revolution through the turn of the twentieth century. The Revolution had a devastating effect on the cult of Radegund – and on the cult of the saints in general. Radegund's churches, chapels, relics, and art, were vandalized or destroyed in the city of Poitiers and in many of the smaller towns and villages throughout France where she was venerated. But these moments of upheaval also resulted in a dedicated revival of Radegund's cult that produced new identities for Radegund that were distinct from how she was conceived of in previous periods. Radegund was imbued with new political and gendered meanings that reflected the needs and concerns of French people living in a revolutionary climate. This chapter will explore how these new meanings developed and suggest how they can help us better understand the strategies people used to redefine themselves and their country within the context of the post-Revolutionary Culture Wars.
We will meet at 3:30 PM on Zoom to discuss. Please use this link: Join Zoom Meeting (https://ucsb.zoom.us/j/87526376038). 
Related Events