Drawing Twentieth-Century History: The World in Flames, a talk by Fernando Bryce Copy
April 7, 2017 @ 3:00 pm

-

5:45 pm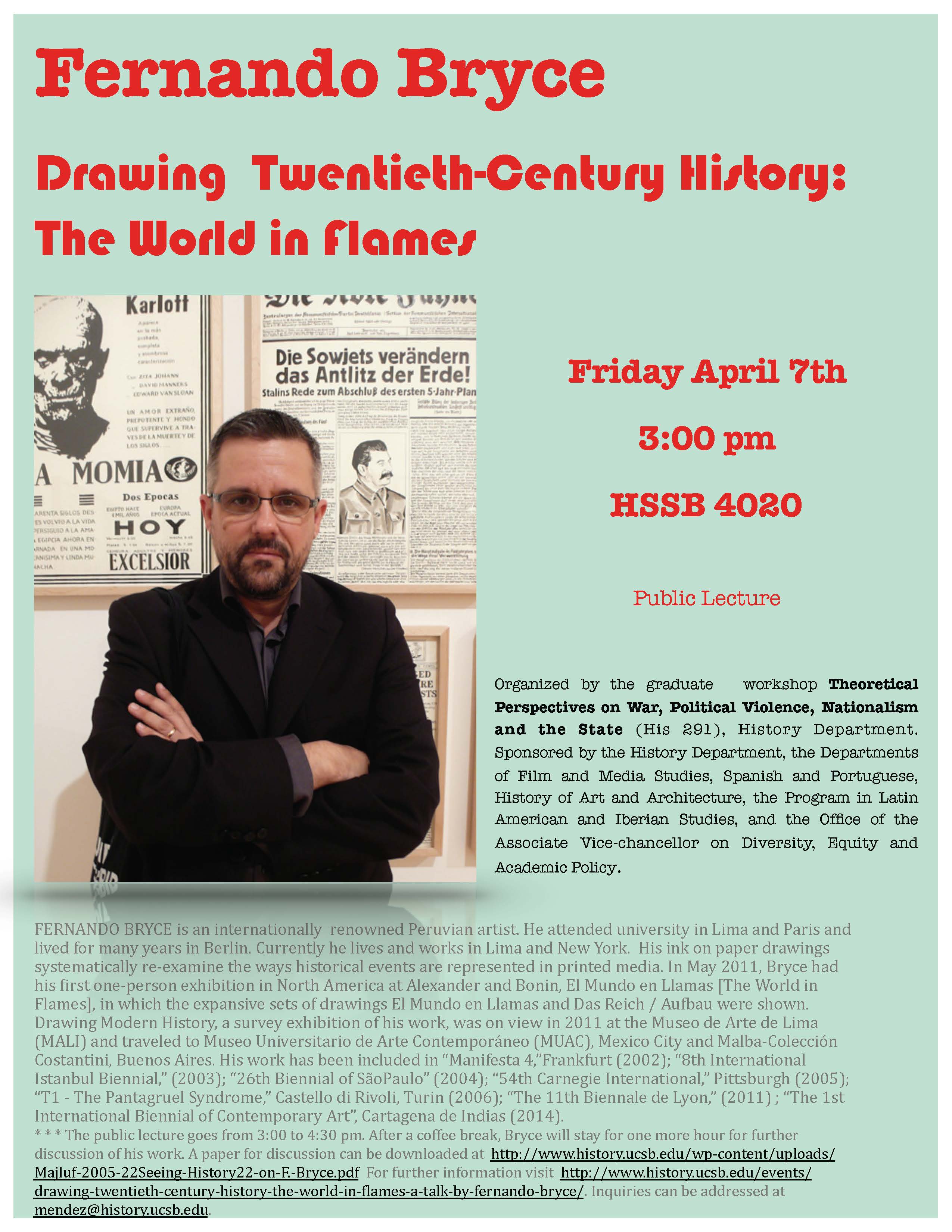 Fernando Bryce's upcoming public lecture, "Drawing Twentieth-Century History: The World in Flames" to take place Friday, April 7th in HSSB 4020 starting at 3 pm, is part of the yearlong new interdisciplinary graduate workshop "Theoretical Perspectives on War, Political Violence, Nationalism and the State" (History 291) in the History Department.  After the formal talk (3:00-4:30) and a coffee break, Bryce will stay for one more hour further to discuss his work with students registered in the workshop and any other interested students and faculty. The following paper is available for discussion: Natalia Majluf, "Seeing History" (Fernando Bryce. Lima: Museo de Arte de Lima, 2011). For further reading see Rodrigo Quijano, "Present Allusion". Fernando Bryce. Barcelona: Fundació Antoni Tàpies, 2005, or Jiménez Fernando Bryce, The Untimely Copyist, Jiménez in Artnexus 2010
Since the goal of History 291 is to tackle the problems of war and political violence, including colonialism and empire from a multiplicity of disciplinary angles, I have taken the somehow experimental step of inviting an internationally renowned artist whose remarkable visual work addresses precisely those concerns. Historians, as Michel-Trouillout pointed out, are not the only ones to provide historical narratives. Or, as Natalia Mafluf, Director of the Museum of Art of Lima, eloquently wrote:
"Bryce focuses on the grand narratives, on the century's historical events and decisive processes: the conquests of European imperialism, the great wars, the revolutions and ideological debates of the Cold War –that is, the development of the international ideologies of communism and capitalism shaping the political struggles of the twentieth century. Bryce's project is thus aligned with certain recurrent themes of critical studies related to culture, images, politics, politics and the formation of subjectivities in the public sphere. At the same time, his series distance themselves from the practice of academics and professional historians, who usually focus on particular problematics or on the study of complex social processes by way of narrative argumentation. His drawings nevertheless provide a different approach to historical facts; one might say that what the academic discipline of history basically focuses on explaining, is what Bryce proposes instead to show. In other words, what he discovered, very simply, was a method that allows us to see history".
This event is co-sponsored by the History Department, the Departments of Film and Media Studies, Spanish and Portuguese, History of Art and Architecture, the Program in Latin American and Iberian Studies, and the Office of the Associate Vice-chancellor on Diversity, Equity and Academic Policy.
For more information about Fernando Bryce, please scroll down. For inquiries please write  Prof. Cecilia Méndez at mendez@history.ucsb.edu
---
FERNANDO BRYCE (b. 1965 Lima) attended university in both Lima and Paris and lived for many years in Berlin. Currently, he lives and works in Lima and New York.  His ink on paper drawings systematically re-examine the ways historical events are represented in printed media. The process, which Bryce describes as 'mimetic analysis' involves culling archives for print materials like advertisements, newspaper articles, and propaganda pamphlets in order to faithfully reproduce a selection of these materials, creating his own ink-on-paper "reconstructions."
In May 2011, Bryce had his first one-person exhibition in North America at Alexander and Bonin, El Mundo en Llamas [The World in Flames] in which the expansive sets of drawings El Mundo en Llamas and Das Reich / Aufbau were shown. Drawing Modern History,  a survey exhibition of his work, was on view in 2011 at the Museo de Arte de Lima (MALI) and traveled to Museo Universitario de Arte Contemporaneo (MUAC), Mexico City and Malba-Colección Costantini, Buenos Aires. His work was included in "Manifesta 4,"Frankfurt (2002); "8th International Istanbul Biennial," (2003); "26th Biennial of SãoPaulo" (2004); "54th Carnegie International," Pittsburgh (2005); "T1 – The Pantagruel Syndrome," Castello di Rivoli, Turin (2006); "The 11th Biennale de Lyon," (2011) ; "The 1st International Biennial of Contemporary Art", Cartagena de Indias (2014).
* * *
FERNANDO BRYCE: "DRAWING MODERN HISTORY"
Over the past decade Fernando Bryce (Lima, 1965) has produced a vast corpus of drawings that forge new forms of representation of historical memory. His method, which he early defined with a dose of humor as "mimetic analysis", is based on the careful copy of official documents, press images, political propaganda and advertisements so as to form large series of ink drawings that focus on power relations and their mediatization in twentieth-century history. Through the basic play of re-presentation (in the most literal sense of showing again), by copying or the simple mise en scène of documents and objects, Bryce uses appropriation, parody and irony as weapons to expose the prejudices underlying commonly accepted official discourses.
This exhibition, jointly presented by Fundación Telefónica, the Museo de Arte de Lima and the City of Lima, brings together for the first time the greater part of the artist's most ambitious series. A significant group of Bryce's early work is shown at Fundación Telefónica. In these drawings and paintings made between Berlin and Lima in the second half of the 1990s, the artist explores diverse approaches to the representation of the local context and its history through images drawn from the mass media. The large series of drawings presented at the Museo de Arte de Lima reveal the way in which Bryce's project gradually acquires a programmatic character and assumes an almost encyclopedic ambition. At the turn of the millennium, his work opens up, as in concentric circles, to encompass other regions and other chapters in twentieth-century history. He centers on the printed matter of ideology to cover war and revolution, colonial exploits, imperial domination and art programs, as officially portrayed in their own graphic language. Through his drawings, Bryce literally recovers the figuration of ideology. His project engages the images of the modern world, fixed selectively to forge a genealogy of the present.
Tatiana Cuevas and Natalia Majluf, curators (2011)
* * *
FROM THE NEW YORK TIMES
The wars and conflicts of the 20th century yielded entities like Unesco, a United Nations agency dedicated to encouraging international peace and, according to its website, "universal respect for human rights." In his current show, the Peruvian-born artist Fernando Bryce reproduces images and text printed in Unesco's Courier magazine between 1948 and 1954, as well as other publications devoted to promoting new aesthetic or cultural ideas.
The largest work includes 81 ink-on-paper drawings — what Mr. Bryce calls "reconstructions" — made from the Unesco Courier. Among the selections here, writers argue against racism, call for better access to education and ask how art and technology might aid peace and unity. On the opposite wall are 31 ink-on-paper reconstructions of advertisements for gallery exhibitions published from 1944 to 1947 in ARTnews, the reigning English-language contemporary art magazine of that period. In the rear gallery are 28 silk-screen prints with reproductions of images from Parisian and Latin American art magazines.
Culled from museum and library archives, Mr. Bryce's project hints at the complications between originals and the copies. After all, art during the midcentury was often experienced — particularly by people outside urban centers — through black-and-white reproductions in magazines. The rise of abstraction as an international language in art is another concern raised by this show, since it was seen as having the ability to erase cultural differences. The gallery's walls are filled with grand and wonderful ideas: foundations for a new and better world. The sobering fact is how familiar these problems of yesterday feel today.

Source:

https://www.nytimes.com/2015/12/18/arts/design/fernando-bryce-explores-midcentury-cultural-ideas.html?_r=0
For more on Fernando Bryce:
Related Events
Page last modified: April 7, 2017