Personal Statement:
I am a historian of science working on the history of environmental and evolutionary sciences in the twentieth century. I am interested in the ways in which scientific practices are affected by, and contribute to, social and political order. I published primarily on the history and politics of environmental data collection, the history of evolutionary biology, and historiography of science during the Cold War. I am currently writing a book on the intriguing history of attempts to integrate scientific knowledge and new technologies — from plant genetics to computers — into historical research. Most recently, I have co-edited (with Christine von Oertzen and David Sepkoski) a forthcoming volume of Osiris, "Histories of Data" (2017).
I received my Ph.D. in History and Science Studies at the University of California at San Diego in 2012, after earning a doctorate in Biology and History of Science from the Russian Academy of Science.
Selected Publications:
"Earthquake Prediction, Biological Clocks, and the Cold War Psy-ops: Using Animals as Seismic Sensors in the 1970s California," Studies in History and Philosophy of Science, Part A, 70 (2018)
Data Histories, Osiris 32 (University of Chicago Press, 2017). Co-edited with David Sepkoski and Christine von Oertzen, the volume brings together a variety of perspectives in history of science under an emerging new rubric, the history of data. Thinking of data historically provides us with an opportunity to consider the impact of changes in cultures of information in the sciences in the longue durée, as well as to rethink important questions that cross many of our traditional disciplinary categories.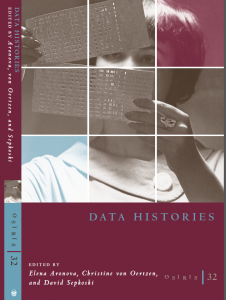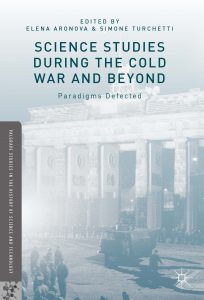 See a review of the volume in H-Soz-Kult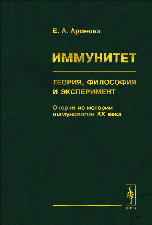 Courses Taught:
HIST 105D: Visionary Biology: Between Science and Science Fiction (Winter 2017)
HIST 107C: The Darwinian Revolution (Fall 2016)
HIST 201S: Topics in the History of Science: History of Science and Science Fiction (Fall 2016)
HIST 105CW: Science and Technology in the Cold War (Spring 2016, Spring 2017)
HIST 201HS: Advanced Approaches to the History of Science, Technology and Medicine (Spring 2016)
Honors and Professional Activities:
Co-organizer of the working group Historicizing Big Data at the Max Planck Institute for the History of Science, Berlin. The working group was a three year collaborative international project (2012-2015) resulted in the thematic volume of Osiris (vol. 32,  2017)
Scholar-In-Residence, Graduate School for the East and Southeast European Studies (Die Graduiertenschule für Ost- und Südosteuropastudien), Munich, Germany (April-June 2014)
Fellow-In-Residence, the Institute for Advanced Study (the Alfried Krupp Wissenschaftskolleg) in Greifswald, Germany, 2011-2012
Scholar-In-Residence, The Rockefeller Archival Center, 2005
Fulbright scholar to US (2004-2005)
Egide – CNRS fellow, hosted by the

Institut d'histoire et de philosophie des sciences et des techniques, Paris (

2003)