Round Table: Hispanic Heritage Month & A New History of Iberian Feminism
October 12, 2021 @ 5:00 pm

-

6:15 pm
Round Table: Hispanic Heritage Month & A New History of Iberian Feminism
The Department of Spanish and Portuguese invites you to a Round Table on Iberian Feminism, on the occasion of Hispanic Heritage Month and the publication of Una nueva historia de los feminismos ibéricos (Tirant lo Blach, 2021) edited by Prof. Silvia Bermúdez (UCSB) and Prof. Roberta Johnson (University of Kansas, UCLA). This is an updated Spanish edition of their book A New History of Iberian Feminisms (University of Toronto Press, 2018).
The roundtable will focus on Basque and Portuguese feminisms, paying special attention to how Portuguese feminists contested Salazar's dictatorship (1926-1974), as well as the resistance offered by Basque feminists to Franco's lengthy dictatorship (1939-1975).
This event is co-sponsored by the Department of Feminist Studies, the Latin American and Iberian Studies Program, Graduate Division, and the Department of History, as part of our 2020-2022 department theme, "Gender and Politics". Please see the flyer below for more information on the event, speakers, and Zoom details.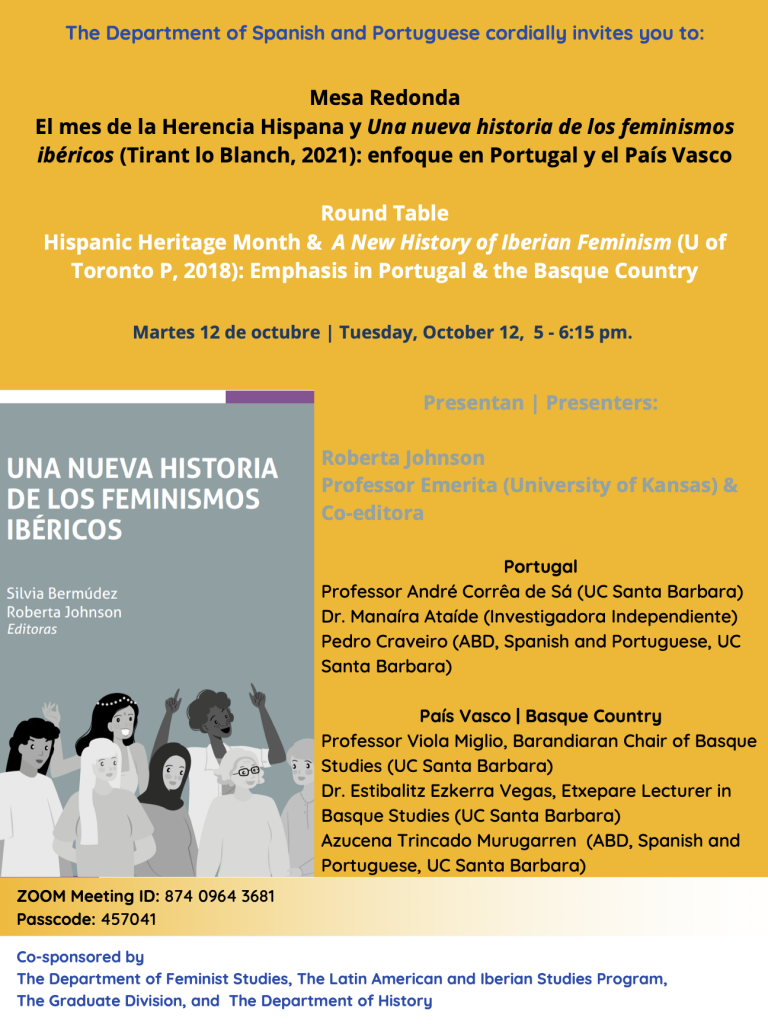 Related Events