Reputation and Habitual Misbehavior on a 'Spicy Little Isle Where Ladies were Few' (Paper Workshop)
February 16 @ 2:00 pm

-

3:30 pm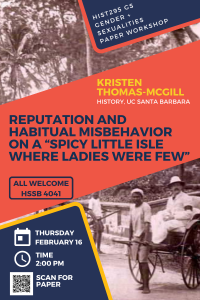 Please join us for our second Gender + Sexualities Paper Workshop of the Winter Quarter on Thursday, 16 February, at 2 PM. 
We will meet in HSSB 4041 to discuss Kristen Thomas-McGill's paper, "Reputation and Habitual Misbehavior on a 'Spicy Little Isle Where Ladies were Few.'" 
You can find a copy of Kristen's paper here. Please read the paper in advance and be prepared to share your observations and insights with the group. All are welcome.
ABSTRACT: In 1903, the Governor of Ceylon learned that a 16-year-old British boy had accused Hector Macdonald, the colony's highest-ranking military official, of sexual abuse. As further allegations of Macdonald's "habitual crime of misbehavior" arose, imperial officials in the metropole and the colonies wrestled with how to address the growing scandal. At stake was not only Macdonald's reputation but also that of British governance across the globe. In this paper, I consider the ways in which the archive has variously replicated or resisted the reputational politics that guided the government's response 120 years ago and argue that these archival practices have fostered widespread misunderstanding of the Macdonald scandal among historians and the public.
Related Events