History Associates Talk | States of Dis/armament | Mhoze Chikowero
November 9, 2022 @ 4:00 pm

-

5:00 pm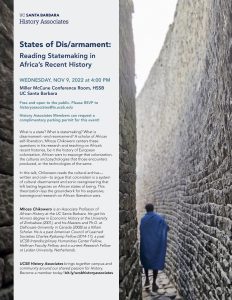 States of Dis/armament: Reading Statemaking in Africa's Recent History
When: WEDNESDAY, NOV 9, 2022 at 4:00 PM
Where: Miller McCune Conference Room, HSSB, UC Santa Barbara
Free and open to the public. Please RSVP to historyassociates@ia.ucsb.edu
History Associates Members can request a complimentary parking permit for this event!
What is a state? What is statemaking? What is disarmament–and rearmament? A scholar of African self-liberation, Mhoze Chikowero centers these questions in his research and teaching on Africa's recent histories, be it the history of European colonization, African wars to expunge that colonization, the cultures and psychologies that those encounters produced, or the technologies of the same. 
In this talk, Chikowero reads the cultural archive—written and oral—to argue that colonialism is a system of cultural disarmament and sonic reengineering that left lasting legacies on African states of being. This theorization lays the groundwork for his expansive, transregional research on African liberation wars.
Mhoze Chikowero is an Associate Professor of African History at the UC Santa Barbara. He got his Honors degree in Economic History at the University of Zimbabwe (2001), and his Masters and Ph.D. at Dalhousie University in Canada (2008) as a Killam Scholar. He is a past American Council of Learned Societies Charles Ryskamp Fellow (2014-17), a past UCSB Interdisciplinary Humanities Center Fellow, Hellman Faculty Fellow, and a current Research Fellow at Leiden University, Netherlands.
UCSB History Associates brings together campus and community around our shared passion for History.
Become a member today! bit.ly/ucsbhistoryassociates
Related Events