History Associates Talk and Performance: Mhoze Chikowero and Dr. Tanyaradzwa Tawengwa on Musics of State-making in Zimbabwe
February 3, 2022 @ 6:00 pm

-

7:00 pm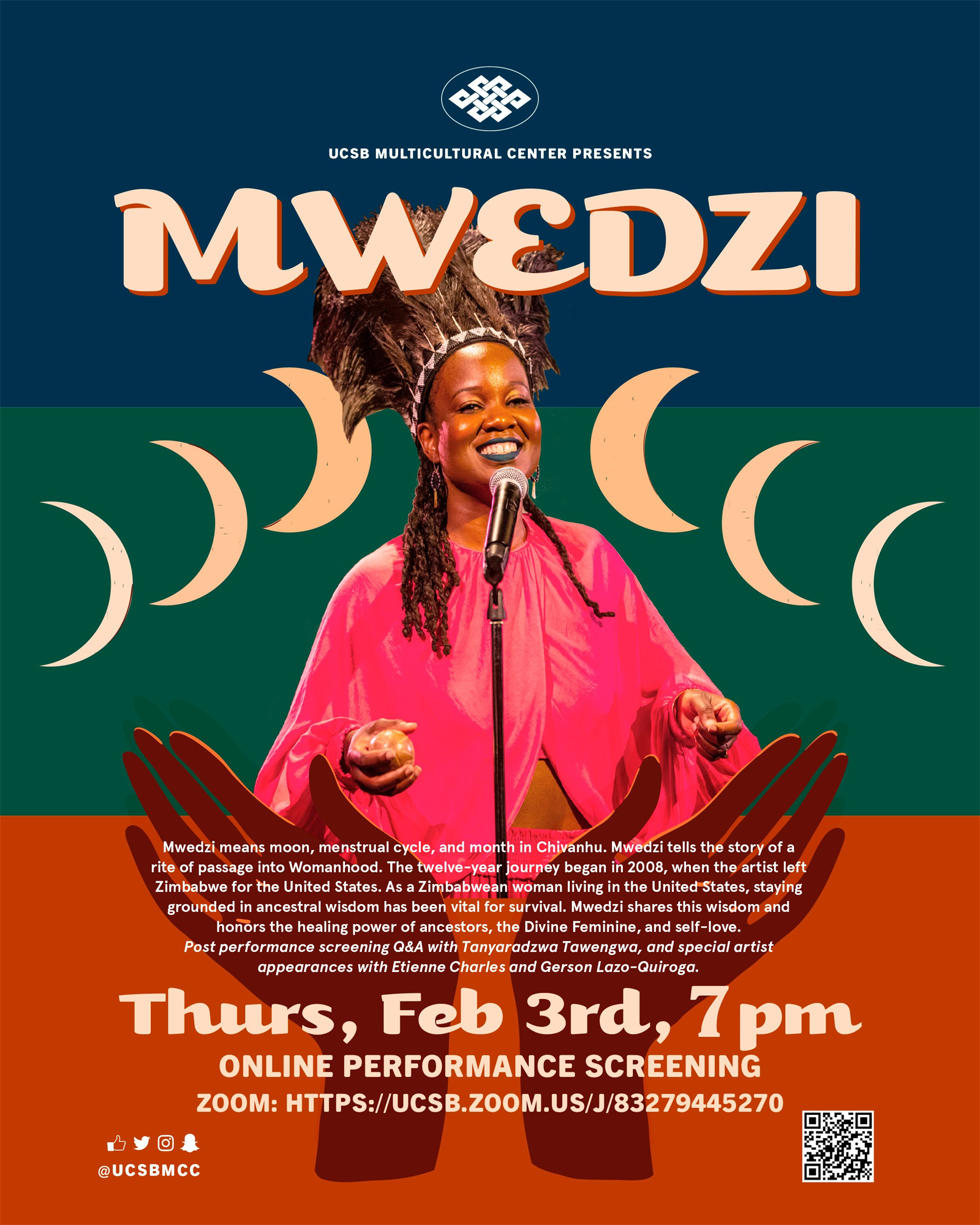 History Associates presents, in collaboration with UCSB Multicultural Center, a special online performance from opera-singer and scholar, Tanyaradzwa Tawengwa. Tawengwa is a close collaborator of UCSB Associate Professor of History, Mhoze Chikowero, who will be moderating the post performance Q&A.
Tawengwa and Chikowero worked together to adapt her senior thesis from Princeton, "Dawn of the Rooster," into an abridged one-hour performance which tells the story of Tawengwa's family during the Zimbabwean Liberation Struggle of 1965-1980. They performed this work on campus in early 2020 and spoke with KCSB about the importance of music in telling African histories. We are delighted to welcome her back to UCSB this year!
MWEDZI
Mwedzi means moon, menstrual cycle, and month in Chivanhu. Mwedzi tells the story of a rite of passage into Womanhood. The twelve-year journey began in 2008, when the artist left Zimbabwe for the United States. As a Zimbabwean woman living in the United States, staying grounded in ancestral wisdom has been vital for survival. Mwedzi shares this wisdom and honors the healing power of ancestors, the Divine Feminine, and self-love. Post performance screening Q&A with Tanyaradzwa Tawengwa, and special artist appearances with Etienne Charles and Gerson Lazo-Quiroga. Moderated by Dr. Mhoze Chikowero.
Tawengwa is a Zimbabwean gwenyambira, scholar, and community organizer, composer, and singer whose storytelling serves to bridge Zimbabwe's past and present, in order to inform a self-crafted future. Her craft lives at the intersection of music and healing, drawing from the generations of Svikiro (spirit mediums) and N'anga (healers) in her bloodline. Read more
Thursday, Feb 3rd, 6pm
ONLINE PERFORMANCE SCREENING
Related Events