California Eugenics Legacies Symposium, June 4-5, 2021
June 4, 2021

-

June 5, 2021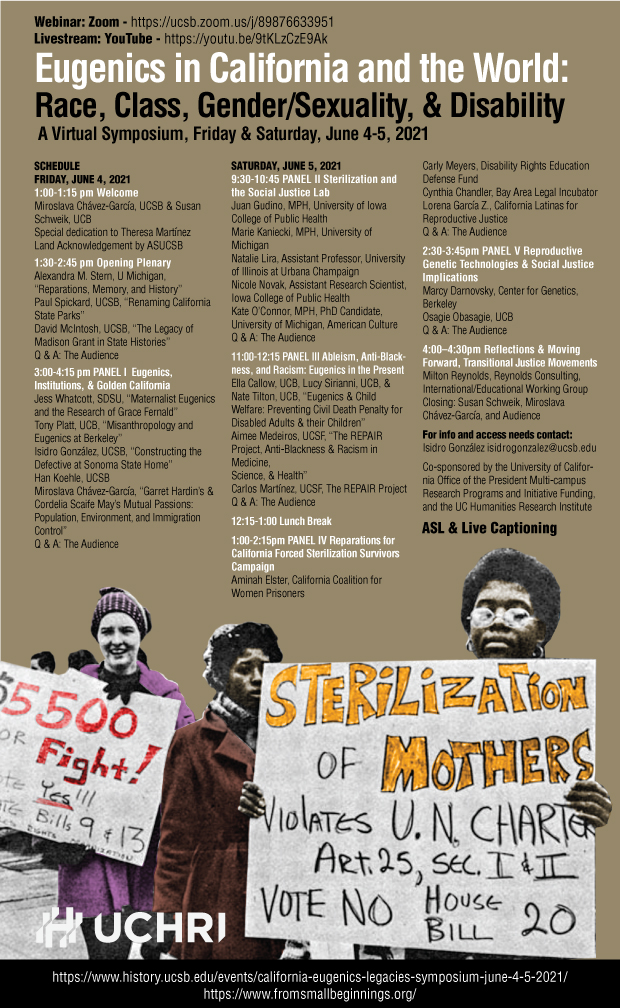 Darnovsky_reproductive genetic technologies_June2021"Eugenics in California & the World: Race, Class, Gender/Sexuality, & Disability"
A Virtual Symposium, Friday & Saturday, June 4-5, 2021
ASL & Live Captioning
YouTube Links:
 DAY ONE & DAY TWO

Transcripts
Day One Plenary & Sessions 1 and 2
Day Two Sessions 3 & 4
Day Two Session 5
Day Two Closing
Panel V: Reproductive Genetic Technologies, Darnovsky Comments
This symposium is part of ongoing national and international conversations on the influence of eugenics beliefs and practices across a multitude of private and public institutions, spaces, and places.* Focusing specifically on the legacies of eugenics in California, this event brings together a diverse group of scholars, educators, students, activists, and community members to engage in dialogue exploring how state institutions of higher learning, health care, and government promoted, sustained, and mainstreamed eugenics via educational, medical, and public contexts.
Extending over two days, the gathering–Final Schedule June 4 2021–will open with a keynote panel focusing generally on history, memory, and reparations: how do we come to terms with the violence of eugenics carried out in and on communities across California?  The next session will present new research on the ways in which eugenics shaped the work of researchers, professors, and doctors in various state institutions, including the University of California. Then we will turn our attention to the findings of the Sterilization and Social Justice Lab at the University of Michigan, learning about the massive digitization project and analysis of more than 20,000 sterilization records in California. The following session will explore continuing struggles to excise eugenics-based beliefs, confronting ableism, anti-Blackness, settler colonialism and racism in medicine, science, and child welfare systems. Next, activists working in law, prisons, disability justice, and reproductive justice will update us on their ongoing fights for reparations and against eugenic ideology and practice. Finally, we will hear from activists-researchers-scholars about new modes and discourses of eugenics in developments of reproductive technology and biotechnology, many of them emerging out of California. (Participant biographies below.)
*The panel is part of 'From Small Beginnings…: Addressing the continuing shadows of eugenics' series of events across the world leading up to marking 100 years since the Second International Eugenics Congress held at the American Museum of Natural History in New York (September 22nd-28th, 1921). The series offers an opportunity to focus on how eugenics has been used and misused over the past century but still more importantly to critically assess how the intellectual inertia of eugenic habits of mind continue to globally influence political, social and medical ideas, in addition to practices and policies. Visit the website and program of events at https://www.fromsmallbeginnings.org/
For information and other access needs, contact: Isidro González @ isidrogonzalez@ucsb.edu
Image Credit: "Women welfare rights activists holding signs protesting proposed forced sterilization bill outside Tennessee courthouse, 1971," Southern Conference Educational Fund (SCEF).
Livestream: YouTube – https://youtu.be/9tKLzCzE9Ak
Webinar: Zoom – https://ucsb.zoom.us/j/89876633951
Participant Biographies
Ella Callow, J.D., is the Director for Disability Access & Compliance at UC Berkeley. She has had a long history of advocacy as an attorney for the rights of disabled people before joining UC Berkeley. Ella is open about having disabilities herself and as a member of the Bay Area American Indian/Alaskan Native community, her understanding of disability in the United States is as an identity that is deeply intersectional with race, class, gender, sexuality, and educational privilege.
Cynthia Chandler is Director of the Bay Area Legal Incubator (BALI), in Oakland, California, a social-mission, legal incubator launched by the Alameda County Bar Association to accelerate the launch of affordable, community law practices.
Miroslava Chávez-García is professor of history at UCSB. She holds affiliations in Chicana/o studies and Feminist Studies Departments. Author of three books including States of Delinquency: Race and Science in the Making of California's Juvenile Justice System (2012). Her current research interests focus on the intersection of the environmental movement, population control, and immigration restriction and the ways in which eugenic thought informed the ideologies as well as the leadership and rank-and-file of these movements.
Marcy Darnovsky is Executive Director at the Center for Genetics and Society (CGS), a Berkeley-based public interest organization focused on the social implications of human genetic and assisted reproductive technologies, including the legacies of eugenics that can distort their development and use. Darnovsky speaks and writes widely about the social justice and human rights challenges of human biotechnologies. She is co-editor, with Osagie K. Obasogie, of Beyond Bioethics: Toward a New Biopolitics (University of California Press, 2018).
Aminah Elster, a formerly incarcerated person, is with the California Coalition for Women Prisoners. A recent UC Berkeley graduate with a B.A. in Legal Studies, Elster is a well-known activist who collaborates with state legislators on policy reform for former and currently incarcerated people. https://news.berkeley.edu/2020/05/19/how-student-aminah-elster-liberated-herself-by-giving-voice-to-others/
Lorena García Zermeño is the Policy and Communications Coordinator for California Latinas for Reproductive Justice and spearheads our Justice for Young Families(J4YF) initiative where she works closely with CLRJ's amazing young parent leaders. She graduated in 2014 from UC Santa Cruz and double majored in Anthropology and Feminist Studies with a concentration in Law, Politics and Social Change.
Isidro González is currently a third-year graduate student in the Department of History at UCSB studying the intersection of race, disability, and science in U.S. history. Broadly, González explores the rise and continuation of eugenics at the nexus of medicine, social science, and culture in the Mexico-U.S. borderlands. By situating eugenics in a transnational and historical context, his aim is to reveal how eugenic ideology continues in the present-day rhetoric of citizenship, health, and progress.
Juan Gudino, MPH, University of Iowa, College of Public Health.
Marie Kaniecki, MPH, is research analyst and dataset manager at the Sterilization and Social Justice Lab (SSJL) at the University of Michigan. The SSJL is an interdisciplinary group of scholars studying America's history of eugenics through a reproductive, disability, and racial justice lens.
Han Koehle is a researcher and activist specializing in health inequity and institutional power. Han serves as the UCSB Health Equity Advocate and is a member of the Moral Support Consulting Collective, where they develop equity-centered medical education materials and strategies. Han's current research addresses trans activist resilience, health inequities among university students, and the legacy of the eugenics movement in routine medical and psychiatric care.
Natalie Lira is Assistant Professor of Latina/o Studies at the University of Illinois at Urbana Champaign. Her research uncovers the largely neglected racial aspects of California's eugenic sterilization program by providing evidence of the disproportionate institutionalization and sterilization of Mexican-origin women and men in state hospitals for the disabled during the first half of the twentieth century.
Carlos Martínez, MPH, is a PhD candidate in the joint program in Medical Anthropology at UC Berkeley and UC San Francisco. His research focuses on deportee and refugee life/health, the global drug war, policing and abolition, and colonial and decolonial approaches to medicine in the United States and Latin America.
David McIntosh is a PhD candidate in the Department of History at UCSB. He is currently exploring the history of anthropology and archaeology.
Aimee Medeiros is an Associate Professor and Director of the History of Health Sciences Program at UC San Francisco. Her work focuses on the reciprocity between diagnoses, preventive care measures, and societal expectations of the body in medicine. Her research areas include the history of pediatrics, race and medicine, history of pharmaceuticals, and twentieth-century therapeutics in the U.S.
Carly A. Myers is a Staff Attorney at the Disability Rights Education & Defense Fund (DREDF). She first joined DREDF staff in Fall 2017, as a George Barrett Social Justice Fellow, where she worked on a variety of litigation, legislation, and policy initiatives aimed at increasing access to healthcare for low-income people with disabilities.
Nicole Novak is Assistant Research Scientist at Iowa College of Public Health.
Osagie K. Obasogie, J.D., Ph.D., is the Haas Distinguished Chair and Professor of Bioethics at the University of California, Berkeley, in the Joint Medical Program and School of Public Health. He is also a Senior Fellow at the Center for Genetics and Society. Obasogie's scholarly interests include Constitutional law, bioethics, sociology of law and medicine, and reproductive and genetic technologies. His first book, Blinded By Sight: Seeing Race Through the Eyes of the Blind (Stanford University Press) was awarded the Herbert Jacob Book Prize by the Law and Society Association. His second book, Beyond Bioethics: Toward a New Biopolitics (University of California Press, co-edited with Marcy Darnovsky), is an anthology that examines the past, present, and future of bioethics. His next book is under contract with Stanford University Press and explores the often overlooked limitations of DNA databases when they are used in criminal investigations.
Kate O'Connor, MPH, PhD Candidate, University of Michigan, American Culture.
Tony Platt is is Distinguished Affiliated Scholar, Center for the Study of Law & Society, UC Berkeley and a member of Berkeley's Truth & Justice Project. He has written previously about the history of eugenics in the United States (Bloodlines, 2006, and Beyond These Walls: Rethinking Crime & Punishment in the United States, 2019). His current research focuses on the racial foundations of UC Berkeley.
Milton Reynolds is an educator and activist in the Bay Area. He formerly served for over a decade as senior program associate with Facing History and Ourselves. Before joining Facing History he spent over ten years as a middle school teacher, a diversity/communications consultant and as a curriculum design specialist and has over 30 years of counseling experience. Dedicated to improving dialogue and implementing innovative solutions to address difficult social issues such as race relations and juvenile justice and delinquency concerns, Milton sustains a high level of engagement in his home community.
Susan Schweik is professor of English at UCB. Her last book, The Ugly Laws: Disability in Public (2009), bore on the history of eugenics, a subject she is taking up directly in the book she is now completing, Unfixed: How the Women of Glenwood Asylum Overturned Ideas about IQ, and Why You Don't Know About Their Work. She has been involved with the development of disability studies at Berkeley for almost 25 years.
Lucy Sirianni is a doctor–al candidate and Graduate Student Instructor in UC Berkeley's English department, where she is completing a dissertation on nineteenth-century women's anti-racism poetry and has taught a variety of courses on social justice and minority literature. She also serves as the Lydia Maria Child Society's Vice President of Inclusive Excellence and Social Action and is deeply passionate about disability history, rights, and justice.

Paul Spickard is Distinguished Professor of History, Black studies, Asian American studies, and Chicana/o Studies at UC Santa Barbara.  He has taught at fifteen universities in the United States and abroad.  He is author or editor of twenty books and ninety-some articles on race, mixed race, and related topics.  His most recent book is Shape Shifters: Journeys across Terrains of Race and Identity.
Alexandra Minna Stern, University of Michigan, is the Carroll Smith-Rosenberg Collegiate Professor of American Culture, History, and Women's Studies and Professor of Obstetrics and Gynecology at the University of Michigan. Her research has focused on the uses and misuses of genetics in the United States and Latin America. She is the author of the award-winning Eugenic Nation: Faults and Frontiers of Better Breeding in Modern America (2015, 2nd ed.), Telling Genes: The Story of Genetic Counseling in America (2012), a Choice 2013 Outstanding Academic Title in Health Sciences, and Proud Boys and the White Ethnostate: How the Alt-Right is Warping the American Imagination (2019). Stern leads the Sterilization and Social Justice Lab, which uses mixed methods to study patterns and experiences of eugenic sterilization in the twentieth-century United States. 
Nate Tilton is the Disability Lab Manager at the UC Berkeley Disability Lab, a disabled veteran, and a graduate student in the Department of Anthropology at Cal studying the intersecting points of institutions, disability, and veteran health. Through Nate's research, he aims to understand how eugenics and eugenic design serves as a framework for ableist institutional policies and structures. He is currently working on "War Machine: American Institutions and Disposable Disabled Brown Bodies." "War Machine" aims to understand the ways in which Pacific Islander veterans from free associated states and U.S. territories like the Republic of Palau and Guam experience exclusion from veterans' benefits like medical care.
Jess Whatcott (they/them) is an Assistant Professor of Women's Studies at San Diego State University. They study, teach, and organize for abolition against carceral state violence. Their current research examines how the philosophy and practice of eugenics was used to develop the carceral system in the state of California, beginning in the early twentieth century. Dr. Whatcott has also written about feminist speculative fiction as political education of eugenics, the carceral industrial complex, and neoliberalism.