Annual Gender + Sexualities Graduate Student Colloquium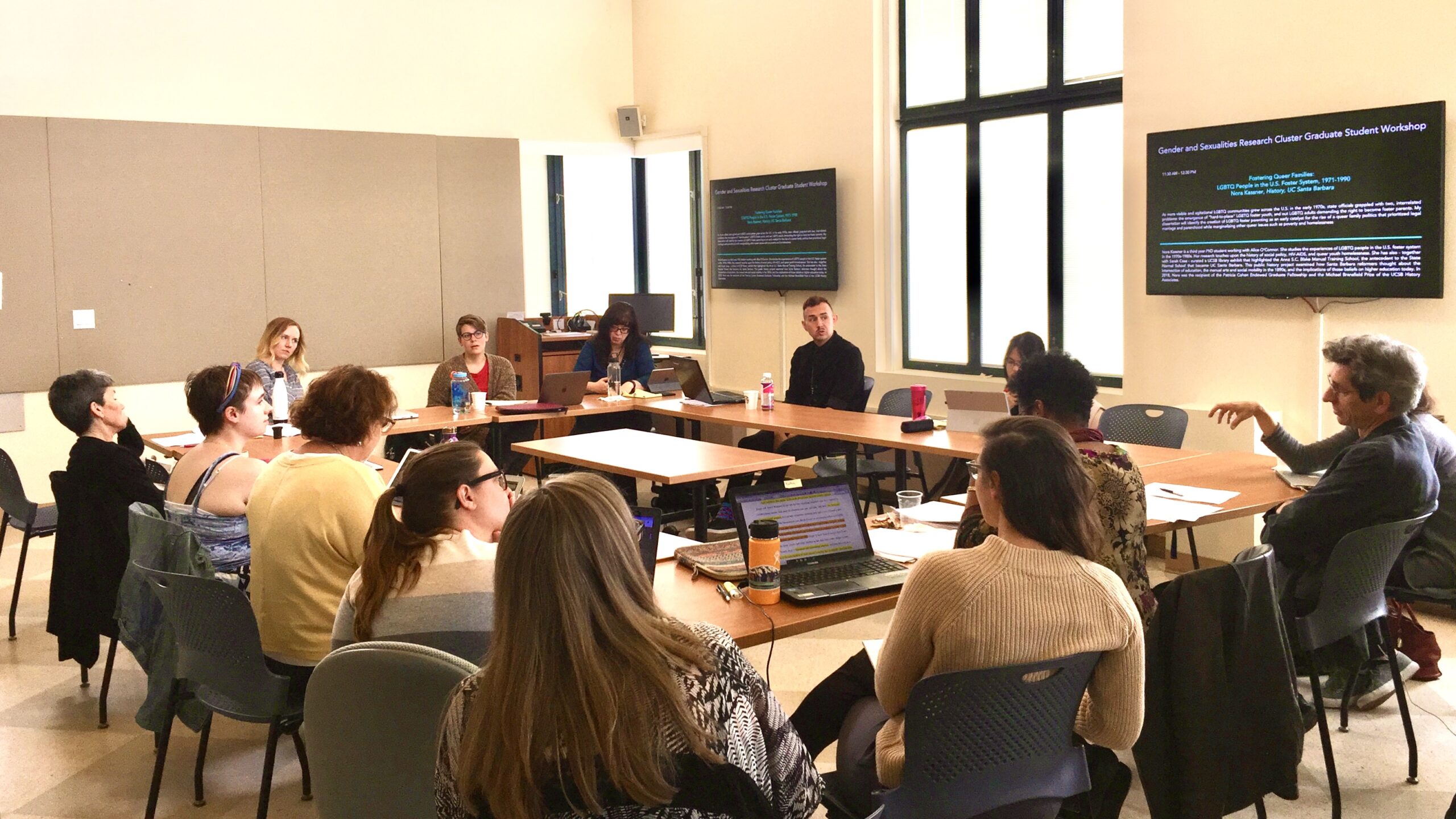 9:00 – 10:00 – SESSION A (Presenter will Zoom)
Giulia Giamboni, History, UC Santa Barbara 
"Pelegrina de Saladino: Mother, Sister, Patroness, and Business Woman"
This is chapter 2 of my dissertation "Gender, Charity, and Empire in the Late Medieval Eastern Mediterranean." By investigating the life of fourteenth-century Pelegrina de Saladinis, the chapter explores the complex intersections between gender, politics, and empire in the cross-cultural context of late medieval Zadar (Croatia). A widow with a husband killed in a local uprising  and a brother exiled, living in a city ravaged by two centuries of colonial dominion and by the Black death, Pelegrina managed to construct a powerful network turning into a key figure in the social fabric of Zadar. She became a trusted testamentary executor for local powerful families, she endowed and renovated a monastery for poor girls with lands and money, she built a hospital for the poor, and helped persecuted friars from Bosnia find a refuge in her city. Her foundations received the support of other Zaratin women revealing that these women identified with Pelegrina's image. Pelegrina knew how to gain the trust of her fellow citizens and to navigate oppressive political regimes to provide concrete help to the need of her city. Pelegrina's story of civic and political engagements in a colonized city challenges traditional narrative of women's charitable giving. Her life demonstrates that women retooled pious practices of charitable giving to challenge the power of an outside political entity. Weaving close relationships with the local oligarchy, granting lands and resources to religious institutions, and caring for the poor and marginalized offered new and empowering opportunities to women to intervene in the daily life of the city and express their political standing. Pious practices did not constrain women's individual and collective agency. Instead, women's charitable activities opened up spaces for performance of agency and emancipatory ends.
10:00 – 11:00 – SESSION B
Makoto Hunter, History, UC Santa Barbara 
"'I Am Not a Criminal': Mormon Women and the Federal Policing of Polygamous Wives in the Early Progressive Era"
By passing the 1882 Edmunds Antipolygamy Act and criminalizing the "unlawful cohabitation" of men and women not legally married, the United States embarked on an unprecedented campaign of federal sexual reform targeting the nation's most notorious "deviants": the polygamous Church of Jesus Christ of Latter-day Saints, or Mormons. On paper, the Edmunds Act specifically targeted men as criminal polygamists, implying women were victims. However, as federal agents sought convictions, their attention turned from polygamist men as defendants to plural wives as potential witnesses. Antipolygamy prosecutors considered the bodily presence of a plural wife—or, better yet, the visible evidence of her pregnancy—an ideal smoking gun to prove unlawful cohabitation. Federal marshals went out of their way to subpoena plural wives to testify against their husbands. Using diaries, letters, and other autobiographical material from plural wives, this paper examines the state's assertion of power over women's bodies in the history of late-nineteenth-century antipolygamy. The paper also charts how these women responded, whether by claiming a right to bodily privacy from the witness stand, theorizing the disciplinary purpose of incarceration from prison, or recognizing federal authorities' surveillance of them in the professed privacy of their communities and homes. Looking back to antipolygamy reveals an unexpected predecessor to early-twentieth-century anti-prostitution legislation, which followed a similar arc of ostensibly prosecuting men's sexuality by policing women's bodies—as well as to the contemporary crisis over a woman's legal right to make choices about her own body and have sexual and reproductive autonomy.
11:00 – 11:15 – NUTRITION BREAK
11:15 – 12:15 – SESSION C
Alice Fulmer, English, UC Santa Barbara 
"The T4T Gift Economy and Antagonisms in the Middle English Romance of Sir Launfal"
Current discourse and parlance around "t4t" (trans for trans relationships), involves speculation what such relationships mean in terms of compulsory heterosexuality, conceptions of queerness, ideas about passing, and trans tenderness, but also perceiving an unassuming pair of two things or people and tongue-in-cheek claiming they're "t4t". While contemporary queer theory and concepts like "t4t" are anachronistic to such canons such as the Middle English romance tradition, a "t4t" framework may be helpful in uncovering instances of gender non-conformity relative to the 13th and 14th centuries. Romances such as Thomas Chestre's translative Sir Launfal (a translation of 12thc. Marie de France) exhibit romantic and platonic relationships as central loci in their texts from which a certain 't4t' affect is derived. Without trans language as one knows in the 21st century, 't4t' can be impressed onto the relationship and parasocial objects. While taking inspiration from the work of Sara Ahmed and her generation of affect theorists, this paper carves a path between more traditional (re: heterosexual) medieval literary studies, queer theory/terminology, and the other aforementioned theories. Looking at central characters and their relationships' dynamics from the Middle English romance tradition provides a means, not a history, from which 't4t' can be understood as a framework to measure affect between individuals who exhibit gender non conformity and how this is impressed and interned into objects they interact or transfer personal affect into. In brief,  these gender affirmations and antagonisms propel the narrative's resolution to demonstrate how they embody the genre of Middle English romance in the late medieval period.  Consider this an inquiry into the bandwidth that a romance like Sir Launfal has exploring t4t discourse as present in contemporary transgender studies, along with key excerpts from the fields of etymology, literary history, and whatever is left of philology.
12: 15 – 1:00 – LUNCH 
1:00 – 2:00 – SESSION D
Kristina Kelehan, History, UC Santa Barbara 
"Spying Homosexuals: An Analysis of the Vassall Affair and Representations, Ideas, and the Politics of Gay Men in Britain during the Cold War
While it is well known that some of the most famous British spies working for the Soviet Union during the Cold War were gay men, much work on this history is written by journalists for popular audiences. My work focuses on a less sensational story but one that is no less important for what it reveals about the politics of queer history in twentieth-century Britain. I am studying the life of John Vassall, a gay man who worked for the British Civil Service and was blackmailed by the Soviet Union starting in 1955. He passed key information to the Soviets until his arrest in 1962. A public scandal at the time, my research examines how the British public reacted to the scandal but also how and why his story disappeared from the public eye and has not received historical attention.
2:00 – 3:00 – SESSION E
Kristen Thomas-McGill, History, UC Santa Barbara 
"A Case Study of Celebrity, Scottishness, and Masculinity in the Victorian Empire"
This is Chapter 1 of a five-chapter dissertation, "'Now I am Going to Tell You about Sir Hector Macdonald': A Cultural Biography of Memorialization and Child Sexual Abuse in the British Empire." It traces Hector Macdonald's extraordinary rise through the ranks from private to major-general, attending to the events of Macdonald's life and media depictions of him. I show how the late 19th-century print media fashioned Macdonald into a celebrity symbol of Scottish martial masculinity, a particularly salient figure at a time when Britons worried about the fitness of their men in the face of imperial challenges. This chapter is both a biography and a critical analysis of biography as a historical source. Victorian media depictions of Macdonald's life story are replete with inaccuracies, offering opportunities to consider the tensions and concordances among biography, mythmaking, journalistic errors, and plain lies.
3:00 – 3:15 – NUTRITION BREAK 
3:15 – 4:15 – SESSION F (Presenter will Zoom)
Kelsey Wight, History, UC Santa Barbara 
Violets & Roses, Betony, & Borage: Italian Women as Apothecaries 
In this paper, I will argue that gender played a crucial and oftentimes restricting role in women's apothecarial practice in early modern Italy, but that it also produced "zones of sociability" and new opportunities for women such as becoming a public figurehead, an author of natural science, or even a saint. The history of science has often marginalized the contributions of women to early modern science and excluded them from discourse concerning natural philosophy. I seek to center the contributions of early modern women and place them, as active participants, within early modern natural philosophy. My central research questions include: How widespread was apothecarial practice within cloistered Italian convents and in the lay public marketplace? How does the Inquisition/Counter-Reformation in Italy factor into how women practiced the apothecarial arts? And how do the apothecary practices of nuns differ from lay women in early modern Italy? I will use the concepts investigated in this research paper to develop my MA thesis and eventual dissertation.
4:15 – 6:00 – KEYNOTE & HAPPY HOUR
Dr. Candice Lyons,  2022-2023 Chancellor's Postdoctoral Fellow 
Department of Black Studies, UC Santa Barbara 
"Queering Slavery: Staging Queer Re-Examinations of the Archive"