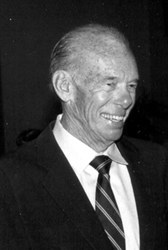 The Dick Cook Memorial Award is presented to a graduate or undergraduate student who is outstanding in terms of service to the department.
It is given in honor of Dick Cook, the founding president of the UCSB History Associates. This gift is eligible for matching dollars from the Van Gelderen challenge.
Recipients:
2023
Elizabeth Schmidt (graduate)
Keren Zou (undergraduate)
2021
Dane Beatie (undergraduate) and Addie Jensen and Mattie Webb (graduate)
2021
Nipun Kundu (undergraduate) and Lisa Johnson (graduate)
2020
Veronica Andrade (undergrad) and Yu Liu (grad)
2019
Sarah Hanson-Kegerreis (grad)
2018
Will Thompson (grad)
2017
David McIntosh (grad)
Paolo De La Cruz-Perez (undergrad)
Cheryl Wilson (undergrad)
2016
Grant Stanton (undergrad)
David Baillargeon (grad)
2015
Sasha Coles (grad)
Brian Griffith (grad)
2014
Ken Hough (grad)
Eden Slone (undergrad)
2013
Ryan Abrecht (grad)
Ricardo Quezada (undergrad)
2012
Abigail Dowling (grad)
Lily Anne Yumi Welti (grad)
2011
Roger W. Eardley-Pryor (grad)
Jean P. Smith (grad)
2010
Nicole Pacino (grad)
Shauna Woods (undergrad)
2009
Rachel Winslow (grad)
no undergrad award
2008
Chrissy Yee Lau (grad)
Scott McDonald (undergrad)
2007
Heidi Marx-Wolf (grad)
Christine Stokes (undergrad)
2006
Elizabeth Tandy (grad)
Kristiana Kocis (undergrad)
2005
David Gregory Schuster (grad)
Deborah Ann Bahn (undergrad)
2004
Sandra Dawson (grad)
Jessica Hutchins (undergrad)
2003
Maeve A. Devoy (grad)
2002
Michael Proulx (grad)
2001
G. Mark Hendrickson (grad)
2000
Joshua Ashenmiller (grad)
1999
John Baranski (grad)
1998
Monica Orozco (grad)
Victoria Linton (undergrad)
1997
Sarah Triano (undergrad)
1996
John Renehan (undergrad)
1995
Rahda Patel (undergrad)
1994
Alicia Rodriguez (grad)
1993
Karen Mead (grad)
1992
Judith Ishkanian (grad)
Interested in Contributing to This Award?