Personal Statement:
I am a specialist in the society, politics and culture of medieval Italy.  I am fascinated by the intersection of cultural practices with the exercise of power.  In the past, I've worked on urban nobles and on Cathar heresy. My recent book explores an aspect of politics and gender: the thirteenth-century Italian city-states imposed laws on how people should grieve at funerals.  I analyze why the laws emphasize histrionic female grief, but in practice stressed not female but male public decorum.   I also work in court records.  I have been drawing on the records of Bologna's criminal court in an effort to recover something of the experiences of people who don't show up in other records: concubines, scam artists, the working poor.  Cases from the Florentine courts have enabled me to explore noble strategies of domination, especially through forms of humiliation.  My most recent work is an exploration of the strategies of powerful noble families in southern Lazio, with an emphasis on their castles.
Advisor to:
Research and Teaching Interests: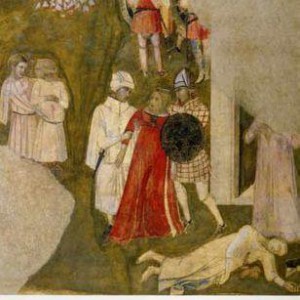 Selected Publications:
Books:
The Florentine Magnates: Lineage and Faction in a Medieval Commune. Princeton: Princeton University Press, 1991.
Power and Purity: Cathar Heresy in Medieval Italy. Oxford and New York: Oxford University Press, 1998.  Winner of the Albert Outler Prize of the American Society of Church History.
Passion and Order: Restraint of Grief in the Medieval Italian Communes.  Ithaca; Cornell University Press, 2007.  Winner of the Marraro Prize of the Catholic Historical Association.
A Blackwell Companion to the Medieval World. Co-edited with Edward English. Oxford: Blackwell, 2009.
Honors and Professional Activities:
2008 Robert Lehman Visiting Professor, The Harvard Center for Italian Renaissance Studies, Villa I Tatti
2000-2001 John Simon Guggenheim Foundation Research Fellowship
1998-99 University of California President's Research Fellowship
1994-95 NEH Research Fellowship
Fellowship, The Harvard Center for Renaissance Studies, Villa I Tatti
1991-92 NEH Summer Stipend
1987-88 Fulbright Research Felllowship
ACLS Fellowship for Recent PhDs